CRBA Spring Meeting at High Peak Baptist


Thank you High Peak for hosting this year's CRBA Spring meeting. We had over 50 attend in person and more than 170 viewing online. High Peak was a great host and we truly appreciate their wonderful hospitality. In addition, thank you to all who spoke, sang and participated. We are 68 churches partnering together to bring honor to Christ: making Him known in our communities. To God be the Glory!
---
Associational Bible Drill

Thank you Wilkies Grove for hosting this year's student Bible Drill. You were a great host and we truly appreciate your hospitality as well as your love for children. These students did an awesome job and are working diligently to become students of God's Word.
---
---
---

DIY No Sew Baby Prayer Blankets
On Saturday, April 24th at 10:00 am at the CRBA building, our Women's Ministry Team will host a Prayer Baby Blanket DIY Workshop. All the materials will be provided. We will be making no-sew Baby blankets. There will be plenty of room to spread out while we are working and praying for these dear babies. The blankets will be distributed thru the Pregnancy Care Center of Burke where they will present a blanket to the new moms after they leave the hospital. 
---

We are looking for folks to help us prayer walk in our communities on Saturday, April 17th. You can prayer "drive or walk" your community any time of the day as we pray for the salvation of our community.

To sign up and to receive more information please go to https://ncbaptist.org/event-pray-and-go-prayerwalking.

Simply click on the register link, fill out the info and:
under the "area" drop-down menu, click Unifour,
under the "location" menu, click Valdese & Morganton/Scattered/April 17th.

Instructions and training material will be sent to everyone who signs up.
---

Mission Trip to Cincinnati, Ohio


We are excited to announce we will be partnering with Amer Safadi (church planter in Cincinnati) this summer. Our mission trip to Ohio will be July 10-18, 2021 and we will be helping a new church reach its community for Christ. We will be helping with Block Parties, Vacation Bible School and feeding families at a local school. We hope you and your church will join us on this exciting adventure. The cost of the trip is $210 which includes transportation, lodging, and food while in Cincinnati.
Information Meeting – April 26, 2021 at 7:00 p.m. at the CRBA office
Training Meeting – May 24, 2021 at 7:00 p.m. also at the CRBA office
Deadline for returning the deposit and notarized forms – May 31, 2021
Trip Dates – July 10-17, 2021 leaving early on Saturday the 10th
For more information and to register please go to www.crbanc.org.

---
We are excited to announce we will be going to Kenya for a mission trip from October 26 thru November 5. The cost is estimated from $2,200 to $2,500 depending on travel. This year we will be hosting a pastors training event in villages and will also construct 4 houses for widows. This is going to be an awesome trip but is limited to 14 people.
Reserve your spot today by going to https://baptistsonmission.org/bom/kenya/kenya-ky21-002/4981 (You may have to place your cursor over the link, and hold down your Control button while left-clicking to get it to open). You can also find your project by going to Mission Projects/Outside US/Kenya from any page on the website or by scanning the QR code above. Scroll to the bottom of the Kenya Partnership Page and then find and click on your project (the Details/Register button). Note that the site only displays ten projects at a time, so you may need to hit the "next" button at the bottom of the page to scroll over and find your project. Once on your project page, it should ask you to sign in or create an account.
STEP #1
IF YOU ARE A NEW USER simply create a new account. The e-mail/username has to be unique (i.e. – husband and wife cannot share the same e-mail). If you have been sharing an e-mail with your spouse, you will need to create a unique one for one or the other of you. Once you have created your new account, go back to the homepage and find your project by clicking (Mission Projects/Outside US/Kenya). Projects are listed at the bottom of the Kenya Partnership page.
-OR-

IF YOU ALREADY HAVE AN ACCOUNT go ahead and sign in. Remember that….Usernames are based on e-mails. If you have forgotten your username, we can look that up for you if you contact our office. If you cannot remember your password you can reset it. After doing so, you should receive an e-mail with a new password to put in. Once logged in you can change it to whatever you would like your password to be. Once you sign in, it should keep you on your project page and you can continue with registration as a team member. But if not, go back to the homepage and find your project by clicking (Mission Projects/Outside US/Kenya). Projects are listed at the bottom of the Kenya Partnership page.
STEP #2
ONCE YOU HAVE EITHER SIGNED IN OR CREATED A NEW ACCOUNT:
1. Click "1" at the bottom of your project page where it asks you to "Choose Quantity". Then click the "Continue" button. It should take you to a second page.
2. The second page should ask you to put in your "team name", which is: CRBA (case sensitive). Click "Continue".
3. The third page should present your account information (general, passport, etc.) for verification. If anything on your account is unfinished, it may require you to complete it. Once you have, click the "Register" button.
4. You will be taken to a "Thank You" page. On this page is a link to our background check requirement. You can go ahead and click this button and submit the needed information for your background check at this time if you wish. (You will also receive an e-mail with the same information you see on the "Thank You" page.)
If you are unable to travel to Kenya but wish to participate,
consider helping us with one of two projects:
We will be building four houses/house churches, and each will cost $1,600. You can donate enough for the house ($400) or you can buy a wall ($100). These houses are for widows in villages that will also be used as houses of hope/church plants).
Purchase Bibles for Pastors! We will be hosting pastor training in the villages of Kisumu, Kenya and we want to purchase Bibles for each of these pastors. Each Bible will cost approximately $10.
---

Mission Trip to Rose Hill, NC
April 27-30, 2021



We are planning a trip to Rose Hill for a Tuesday-Friday and will distribute quilts to families who have had Baptists on Mission repair their houses after hurricanes hit our east coast. Each family will receive a handmade quilt as a gift as they move back into their homes.

Even if you are not able to go on the trip, we need your help. Beginning March 8th, we will be offering quilting classes on Monday evenings from 6:30-8:30pm through the month of April. We will use that time to make squares for the quilts so the team will be prepared before making the trip. You are needed whether you are inexperienced or experienced in quilting. All classes will take place at the CRBA office (1812 US HWY 70 E, Morganton). To sign up for the class and for more information please contact our office at 828-437-0137 or admin@crbanc.org.

For those able to travel to Rose Hill, the cost of the mission trip is $40 per person which includes lodging and food. For more information, please contact Dawn Mathews at 828-962-5255 or our Associational office at 828-437-0137. There will also be opportunities to do light projects for those who want to do construction and/or painting.
---

 

Ways that you can be involved:

– PRAY for planning and preparation.
– PROMOTE www.BurkeChangers.org to other churches.
– BECOME a Partner Church: $50 registration.
– ENLIST Crew Leaders, Skilled Supervisors, Students & Chaperones.
– BE willing to assist provide lunches for a work crew. 
– HELP us with Block Party Outreach Events
– DONATE to BurkeChangers Mission Week through CRBA.

There are so many ways that your church can get involved and we would love to have your partnership! If you have questions, comments, or suggestions please reach out to us at info@BurkeChangers.org or contact Greg Klapp – CRBA Youth Team Leader or Eddy Bunton – BurkeChangers Team Coordinator. God bless!
---

We have a few copies at our CRBA office, or you may order your copy by clicking here: https://amzn.to/3rEEEd9.
---

Church News

Amherst Baptist is seeking a Pastor.

Antioch Baptist is seeking a bi-vocational Pastor.

Burkemont Baptist has 150 wooden children's chairs they are willing to donate to a church in need. For more information please contact Giovonnia Hennessee at 828-437-2357.

Catawba Valley is seeking a Pastor.

Community Missionary is seeking a Pastor.

El Bethel Baptist Church in Morganton is seeking a full-time Associate Pastor of Worship and Youth to join their ministerial staff. Please send resumes and questions to worshipleadersearchebbc@gmail.com.

Missionary Ridge is looking for a full-time Youth Minister. Please send resumes or direct questions to dbrowning@missionaryridgebaptist.org

Mull's Grove Baptist is seeking a bi-vocational Minister of Music and a bi-vocational Youth Minister. Please send resumes and questions to brodruemgbc@att.net.        

Pleasant Hill Baptist is seeking a full-time Children's and Youth Ministry Pastor as well as a part-time Worship Pastor/Leader.

Rutherford College First Baptist is seeking a bi-vocational Pastor.  

Mull's Grove is hosting: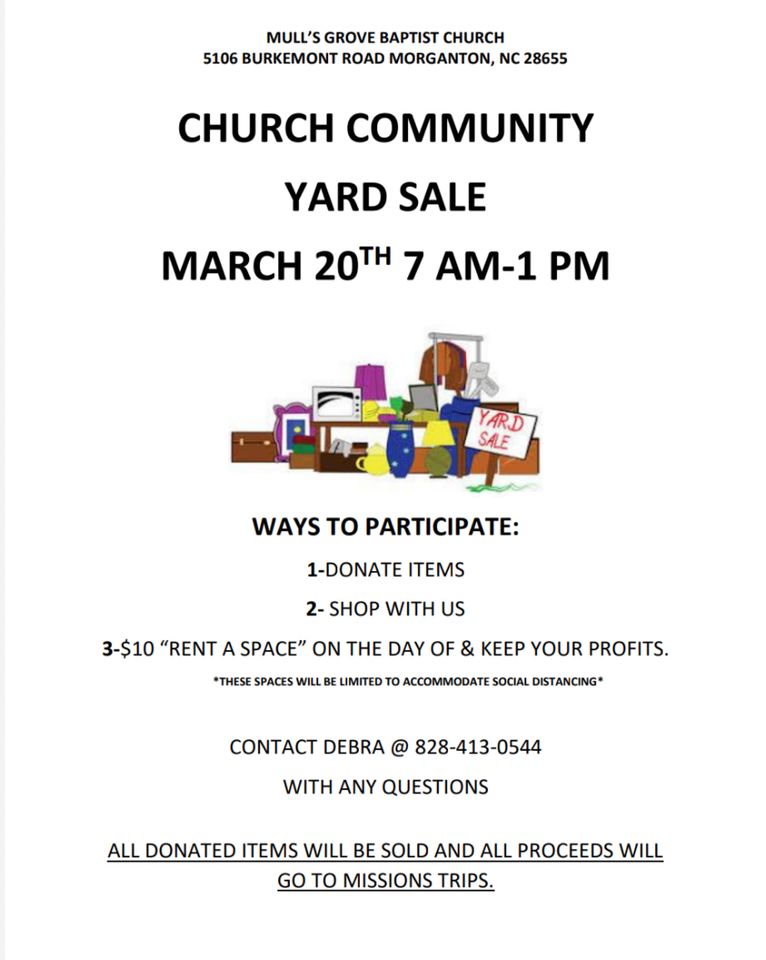 Pleasant Hill is hosting: