CRBA                                                          Update April 19, 2018
​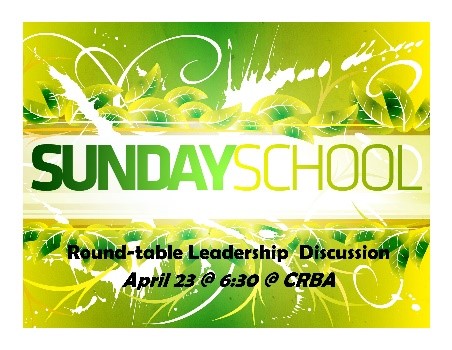 Our Sunday School Leadership Round-table training is designed to help Sunday School Directors, Teachers, and Pastors strengthen and grow their churches through discipleship using Sunday School as the tool. This will be a great time of sharing and receiving ideas so please join us at 6:30 on Monday, April 23rd at the Catawba River Baptist Association. Our Director of Missions (Robby Smith) will be leading the discussion.

Our community is blessed to have so much diversity and with that comes opportunities for churches to show the love of Jesus. We have many families with children with special needs and the church is in a perfect position to minister to these families with love, patience and understanding. With that in mind, CRBA will be offering training for churches and individuals on Tuesday, May 15th from 6-8 p.m. at our CRBA office in Morganton. Please put this on your calendar and make plans to join us.
HELP NEEDED! As many of you know, we are renovating the house behind the CRBA office in order to sell it and apply the proceeds from the sale of the house to the existing debt (mortgage on the property) which is currently $240,500. At this point a tremendous amount of work has been accomplished with the help of Stephen Daniel and others. While much has been accomplished there is much work to still be done. That being said, it is time to come together and get it finished. We are looking for volunteers to help us finish this important project. If you are willing to help with any of the following tasks, please give us a call at our CRBA office.
Install plumbing fixtures (tubs, sinks, etc.)
Painting
Hanging Doors
Trim Work
Flooring​

​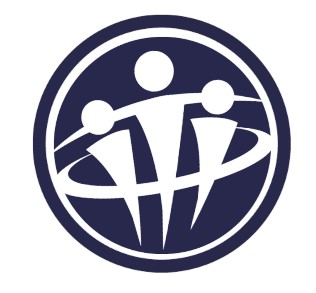 Our first ever Friends of Catawba River Baptist Association Benefit Banquet will be Tuesday, May 22 at 6 p.m. at Mount Home Baptist Church. Our special guest will be Rev. Dannie Williams who pastors the First Baptist Church of Lyons, Georgia. Dannie loves the Lord who has used him mightily as pastor, church planter, and church revitalizer having a world-wide ministry. Please join us as we ask God for the miracle of being a debt free Association. For FREE tickets and more information please give us a call at 828-427-0137.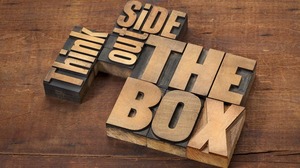 OUT of the Box
(Creative Spring Ideas to Reduce Lostness in Burke County, NC)
by Diana Davis
The 52 Challenge: Members commit to personally invite one person—friend or stranger—to church every week this year, and write the names on their personal calendar.
Sunday Brunch: Deliver invitations to homes located near the church building inviting them to worship services and to a Sunday brunch beforehand with their neighbors (and some friendly church members).
Pray for Leaders: Invite local government leaders to your worship service. Recognize those who are able to attend and pray for them.
Date Night: Provide complimentary childcare on an evening for unchurched couples.
NearlyWed Seminar: Invite engaged couples to an 8-week seminar before church or during the week. Each session is a topical Bible study about marriage, with homework and handouts. At completion, couples get a certificate and promote to the newlywed class.
Mission Trip Mania: Plan several mission trips for the year—local, national, international—and challenge members to either participate personally or help sponsor another participant.
Host a Kite-Flying Day: Encourage kids, teens and adults to participate and invite friends. Give awards for highest, longest in flight, most creative kite.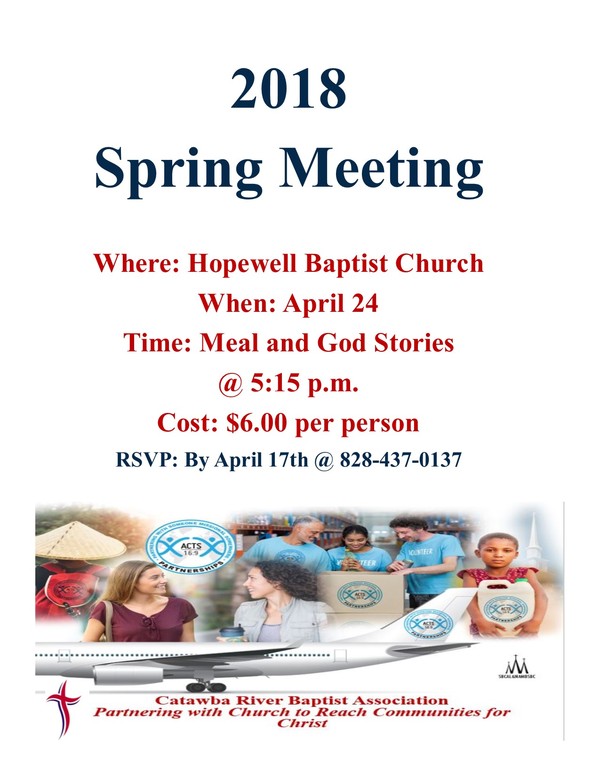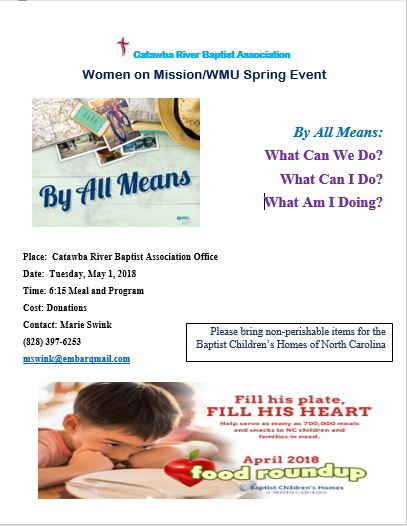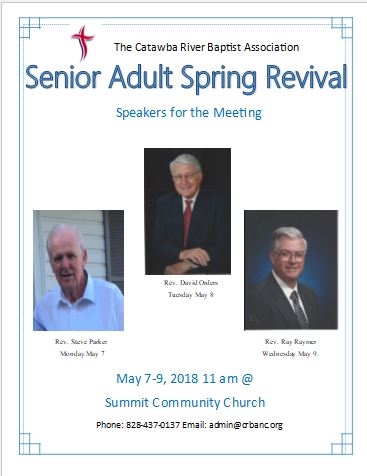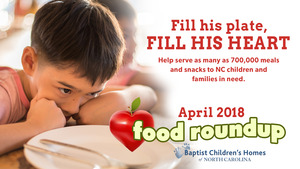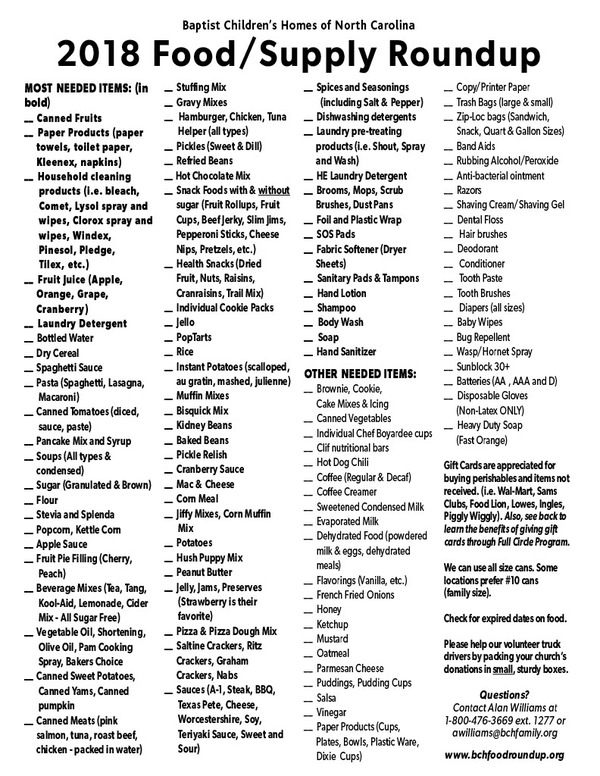 ​Please help the CRBA to help Baptist Children's Home during their annual Food Round-up.
​Items from the above list can be dropped off at the CRBA office until May 1. Please feel free to call the office at 828-437-0137 with any questions that you may have.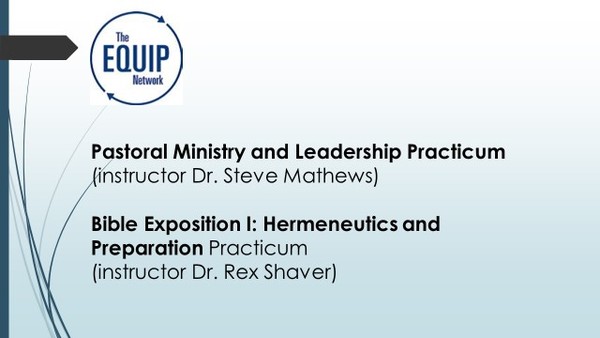 Beginning August of this year we will be hosting seminary accredited courses at our Catawba River Baptist Association office in Morganton. This is a great opportunity to begin (or continue) your seminary education in your own town. All courses offered on our CRBA campus are accredited through SACS and offered in partnership with Southeastern Baptist Seminary. For more information or to register please contact our CRBA office at 828-437-0137.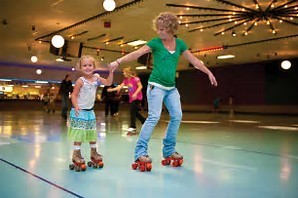 CRBA Men's Ministry will be hosting CRBA's Annual Family Skating Party for Burke County. Join us Sunday, May 20th from 2-4 p.m. at the Skating Pavilion in Morganton. This will be a lot of fun so bring out the family and join us. Also, Catawba River Baptist Association will be taking care of the entrance fees and skate rentals so feel free to bring your family and friends!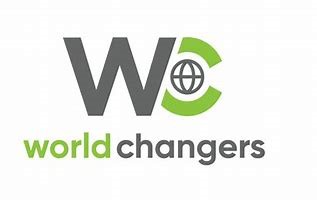 World Changers (helping CRBA change Burke County one family at a time) will be happening July 16-21 and we need your help. We need 12 additional men/women who will serve as Crew Chiefs for the teams of students. These folks should have some construction skills. We also need 2 more churches who will provide lunch for a team Tuesday through Friday. Lastly, we need churches to help clean the school each morning after the students leave for worksites. If you or your church can help us with any or all of these needs, please give us a call at our CRBA office at 828-437-0137.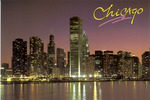 We are heading to Chicago July 21-27 and we want you to go with our team to minister through Vacation Bible Schools, light construction, personal evangelism and prayer walking. If you would like to join us on this great adventure please turn in your application form and deposit by Monday, April 23rd. For application forms and additional information please give us a call.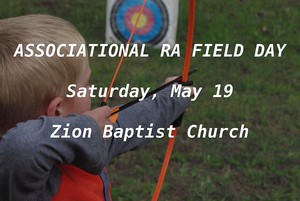 10:30 a.m. – 2:30 p.m.
Program fee $5 each person
Program and lunch
Program
11:00 a.m. Missions Presentation
12:15 Lunch
12:45 Field Day Activities
including:
Races Target Shooting
Softball Throw Air rifle
Frisbee Challenge Archery
Slingshot
2:20
Closing ceremony
Groups planning to attend are urged to inform Phillip Heavner by May 17 of the approximate number coming, by phone, 828-502-9318, or e-mail, pmheavner@hotmail.com.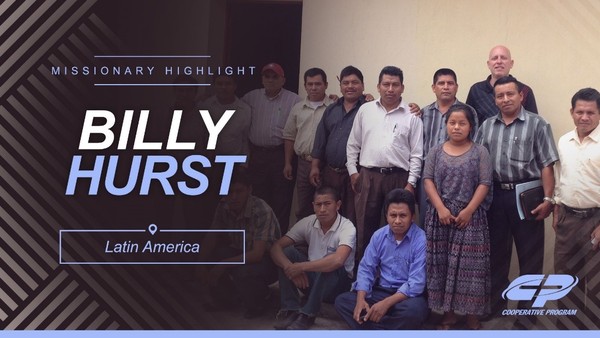 Just as we need seminaries in North America to train pastors and missionaries, we also
need seminaries in other countries. As our missionaries lead people to faith in
Christ and start new churches, they need seminaries to train pastors and others who will
lead churches into the future. All this is to explain why we have a missionary like Billy Hurst. Billy works with seminaries across Mexico and down into Central America to Panama. He helps train the seminary teachers and shows them how to stay focused on teaching Bible truths and staying missions-minded. Let's pray for Billy now and ask God to keep him safe during all his traveling and to stay spiritually strong as he works with seminaries that will have a big influence on churches across a big area.
Ministry Partner News
Catawba Valley Baptist Church is currently seeking two people to join their staff. The positions are:
Minister of Music/Associate Pastor (full-time)
Church Pianist
If interested please contact pastor Dean Hart @ 828-850-0402 or pastordeancvbc@gmail.com
Grace Baptist Church is currently seeking a Minister of Music (part-time). If interested please contact Grace Baptist Church at 828-433-1508 or gbcmorganton@gmail.com
Missionary Ridge Baptist Church ​is currently seeking a Full-time Associate Pastor of Youth. Please send all Resumes and references to Scott Walker
@ http://mscottw@charter.net
Macedonia Baptist Church ​​in Lincolnton is seeking a part-time worship leader.
Music ministry experience and/or music education will be taken into consideration. Resumes may be emailed to pastorsetzer@yahoo.com or mailed to Macedonia Baptist Church, Attention: Dr. Randy Setzer, 5286 E. Hwy. 150, Lincolnton, NC 28092.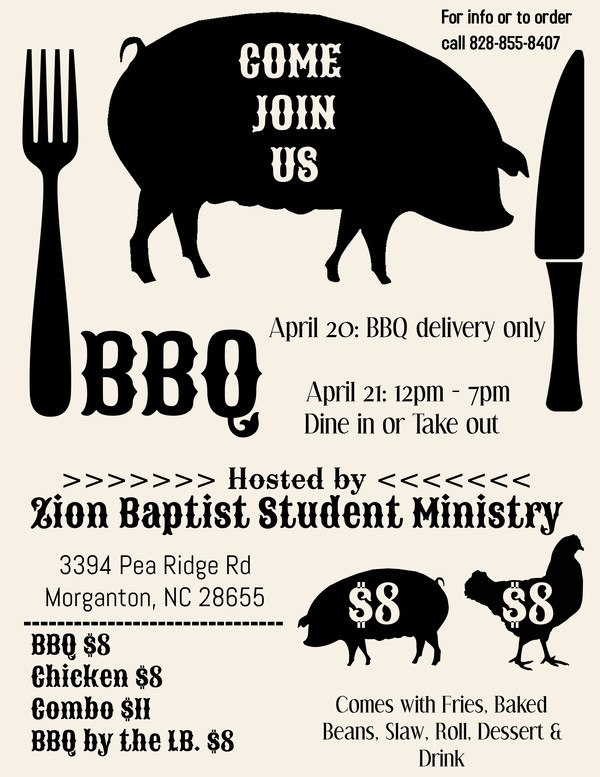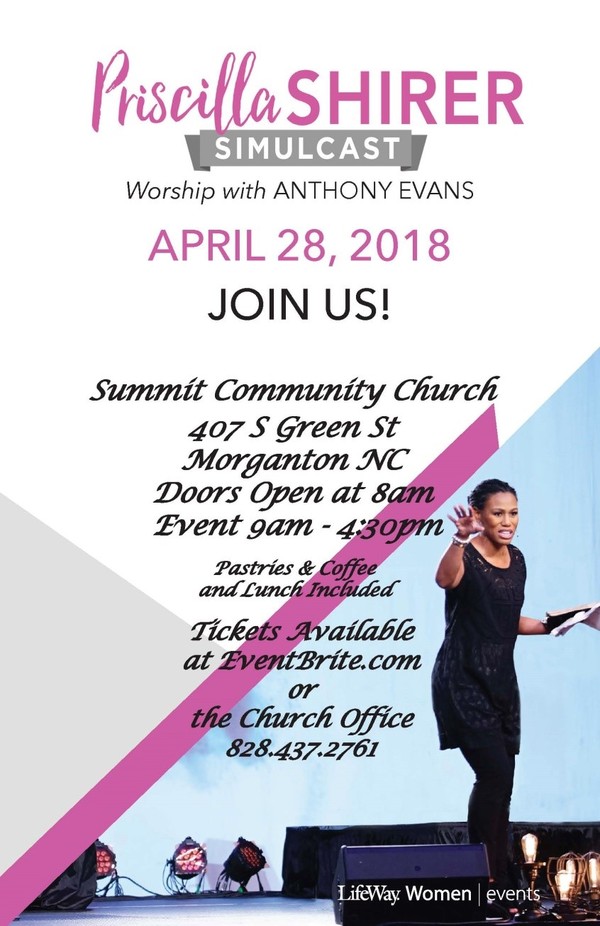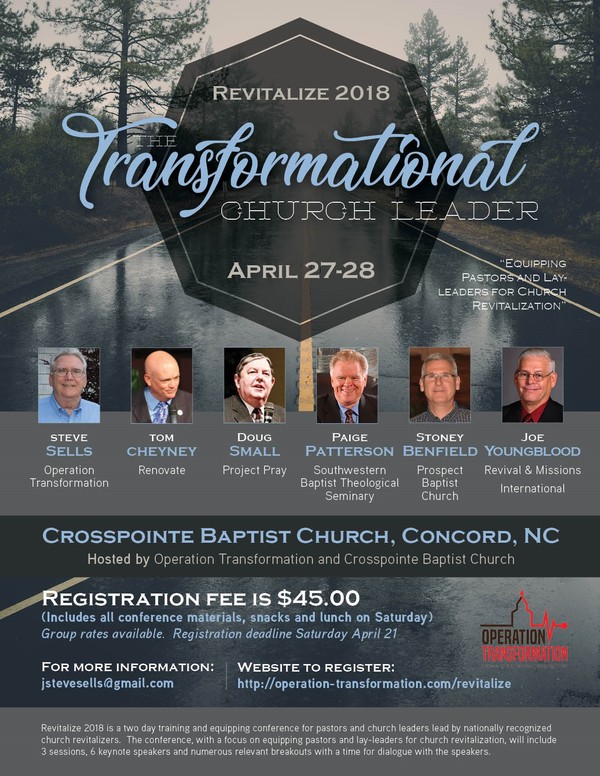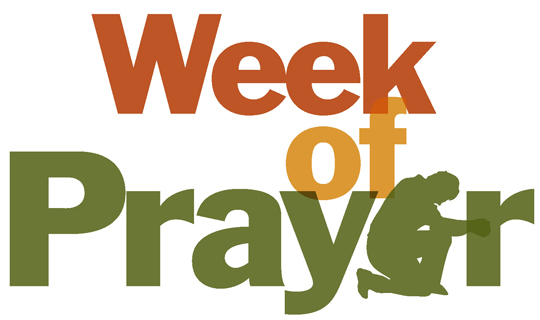 Please be in prayer for this week's Churches of the Week:
​​
​South Mountain
(Pastor
Chris Annas)
Southside
​(Pastor
Lawrence Robertson)
Summit
​(Pastor
Mike Chandler)
Table Rock
(Pastor
Walter Vinson)
United
(Pastor
​Steve Mathews)
​Churches without Senior Pastors:
Amherst
Antioch
Burkemont
​Cornerstone
El Bethel
Mountain View #1
​North Morganton
(May 1st)
​Oak Ridge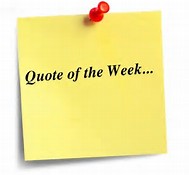 ​ "One reason sin flourishes is that it is treated like a cream puff instead of a rattlesnake."
–Billy Sunday