Join our nation in prayer on May 5th as we pray for our nation's leaders, teachers, military service members, police officers, firefighters/EMS, doctors/nurses, and pastors/ministers.
May 5th – 12 (noon) at FBC Morganton (bring a lawn chair)
May 5th – 6 PM at Jacumin Plaza, Valdese (if raining: East Valdese Baptist Church)
We look forward to seeing you there!
---

On May 2nd, we hope to deliver 300-500 cakes to our Baptist Children's Homes in NC and we need your help. Please consider baking a cake (or Cakes) for the wonderful children being taken care of at our Baptist Children's Homes. Once you bake the cake(s), place them in one of the cake boxes we provide at our office and deliver it to our CRBA office between the hours of 7 and 10 a.m. on May 2nd. We will take all the gathered cakes to Clyde and other designated locations where they will be used for dessert after meals. And, on a child's birthday, the child will choose which cake they want for their birthday celebration. This is a great opportunity for our churches and individuals to make a big impact on these wonderful children and the staff at our Children's Homes. For more information and to pick up free cake boxes please stop by our CRBA office. Lastly, we have prepared a video explaining how to pack/wrap each cake to protect it from freezer burn. Click here to watch the video. A longer version is available on our CRBA website.

---

BurkeChangers will be awesome again this year, and we need your help. Our greatest need currently is for skilled men and women to serve as Crew Chiefs. If you are willing to help, please sign up today on the above link. If you don't have building skills but wish to help, we have a place for you to serve. For more information, please go to www.burkechangers.org or call our office at 828-437-0137.
---
We are looking forward to our Mission Trip to Cincinnati from August 4-7. Ministries will include two block parties, prayer walking, participating in worship services Saturday evening, and handing out flyers. The approximate cost is $240 per person. Lodging will be at a local hotel and is based on double occupancy.

To register and for more information, please call our CRBA office at 828-437-0137.
---
We are excited we will be taking a team to Kisumu, Kenya this November. We will be building homes for those in need, which will also be used for Bible Studies and Church Plants. In addition to providing homes, there will be opportunities for personal evangelism, prayer walking, preaching, and teaching. The cost is approximately $2,200 (cost may vary due to travel). For more information and to register, please call our CRBA office.

---
---
We are happy to announce that Burkemont is bringing the Dental Ministry Trailer from Baptist On Mission to our community. This important ministry will take place on August 18th and 19th and we need your help. The following volunteers are needed:
Dentists, Dental Hygienists, Prayer Counselors, Greeters, folks to provide meals, etc.
If you would like to help with this wonderful ministry, please call Eddy Bunton at Burkemont Baptist. Your help is greatly appreciated.
---
---
Free Bird Feeders and Refills
Most outreaches to those in nursing homes will touch their extended family as well. Provide an acrylic bird feeder – the kind with suction cups that stick right to the window. Return occasionally to refill the bird feeder and check in on your adopted elderly friend.

Bait at Local Fishing Spots
This brings new meaning to the verse from Psalm 51, "I am a worm and not a man." Those who fish with live bait need worms, grubs, goldfish, minnows, or whatever. Purchase these critters in large quantities from a bait shop, go to the lakes, and give them away. Be sure to invite those fishing to your Sunday worship service.
---
Church News

Amherst Baptist is seeking a Full-time Pastor. Please send resumes to mpoteet2003@yahoo.com

Antioch Baptist is seeking a bi-vocational Pastor.

Icard's Grove Baptist is seeking a bi-vocational Pastor.
Mull's Grove Baptist is seeking a bi-vocational Music Minister. Please send resumes and questions to brodruemgbc@att.net.
Pleasant Hill Baptist is seeking a Piano Accompanist for Wednesday night choir practice (7:00 pm) and Sunday morning service (10:30 am). There will be a stipend offered. Email resumes to jackhodges@pleasanthillbc.church or mail to:
2396 Enola Rd., Morganton, NC 28655

Southside is seeking a Church Secretary. All questions and resumes should be sent to rlawrencelaw52@gmail.com.

Wilkies Grove is seeking an:
Associate Pastor or Associate Pastor/Minister of Youth & Children FULL-TIME POSITION

Located in eastern Burke County, Wilkies Grove Baptist Church is seeking a full-time Associate Pastor or AP / Minister of Youth & Children who understands and demonstrates the work of the church and is faithful to the conservative values of the Southern Baptist Convention. The church is in a rural setting, south of I-40, between Hickory and Morganton. Wilkies Grove averages an attendance of 240 and is a member of the Catawba River Association. Additional staff includes the senior pastor, youth leader, minister of music, and secretary/treasurer.
Job Descriptions are available at wilkiesgrove.com.

REQUIREMENTS:
Saved by the Grace of God through the acceptance of Jesus Christ as personal Lord and Savior.
A Southern Baptist who agrees with and ascribes to the literal validity and application of the Holy Bible.
Believes the Holy Bible is the inspired and inerrant Word of God.
Licensed and ordained as a minister of the Gospel by a conservative Southern Baptist Church.
A minimum of (3) years of experience in a church leadership role is preferred.
RESPONSIBILITIES:
Proclaim the Gospel as the literal Word of God to the church and assist the church in proclaiming the Gospel to the community.
Partner with the senior pastor and Deacon Board in the governance of the church.
Support the church with attendance and tithes.
Provide assistance to the senior pastor in any area of work, as requested or assigned.
Assist in worship services as needed and at the discretion of the senior pastor.
Serve on church committees and support church-wide initiatives.
Conduct funeral services and wedding ceremonies as requested.
SALARY: Salary commensurate with experience.

CONTACT:
Mr. Chris Bortnick
WGBC Pastor Church Committee, Chair
PHONE: 828.413.0060
EMAIL: bortnick@charter.net
MAIL: Mr. Chris Bortnick
5780 Wilkies Grove Church Road
Hickory, NC 28602

---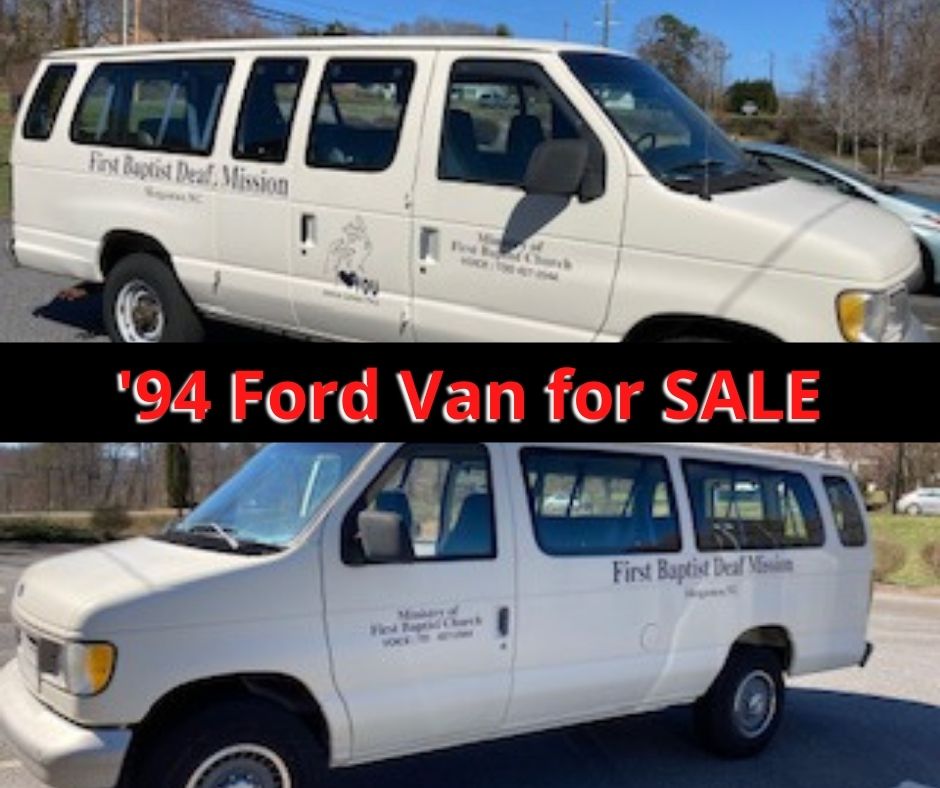 The Deaf Church at FBC Morganton is selling a 1994 Ford Club Wagon Van
5.0-liter engine
Runs good
84,472 miles
New battery
Trailer hitch
Radio DOES NOT work
Side slide-out steps
Asking $3000.00
Please contact Tom Lineberger at (828) 413-0216 for more information.
---
Partner News

Dudley Shoals Baptist Church in Granite Falls, NC is prayerfully seeking a full-time Senior Pastor. Resumes may be mailed to Post Office Box 674 Granite Falls, NC 28630 or emailed to DSBC.resume@gmail.com by May 9th. More information can be found at www.dudleyshoalsbc.com/seniorpastor



Stantonsburg FBC is seeking a pastor located 50 miles east of Raleigh. If interested, please send resumes to:
SFBC Pastor Search Team
PO Box 356
Stantonsburg, NC 27883



FBC Hildebrand is seeking an Organist & Part-time Music Director for our church. This is a paid position. This will require you to be here for Sunday & Wednesday services and any special services; revival, cantata, dramas, etc. Please submit your resume to the church office by mail at PO Box 220, Hildebran, NC 28637 or you can email your resume to Kendra Arrowood ministry@fbchildebran.com.


Glenwood Baptist Church is seeking a man of God to be our full-time pastor. If interested, please submit your resume to:
Glenwood Baptist Church
Attn: Pastor Search Committee
PO Box 218
Glenwood, NC 28737
or online at glenwoodbaptistchurch@yahoo.com.


Poovey's Grove Baptist Church is seeking a full-time senior pastor. For more information, please contact Classie Whisenant at (828) 381-2500 or classie1994@gmail.com.

First Baptist Church of Lincolnton, NC:
Wanted: Part-time Facilities Manager who has demonstrated maintenance experience. If interested, please send a resume to First Baptist Church, Attn: Dr. Stanley Spence, 201 Robin Road, Lincolnton, NC 28092, or email Vicki.moore@fbclincolnton.org.