CRBA UPDATE                                                                  August 9, 2023


Thank you to our BurkeChangers Crew Chiefs for serving our community. These men will be leading our BurkeChangers work teams next week and we are grateful for them and all they will do for our students, community, and Lord. We are also very appreciative of Foothills Service Projects and all their assistance and partnership.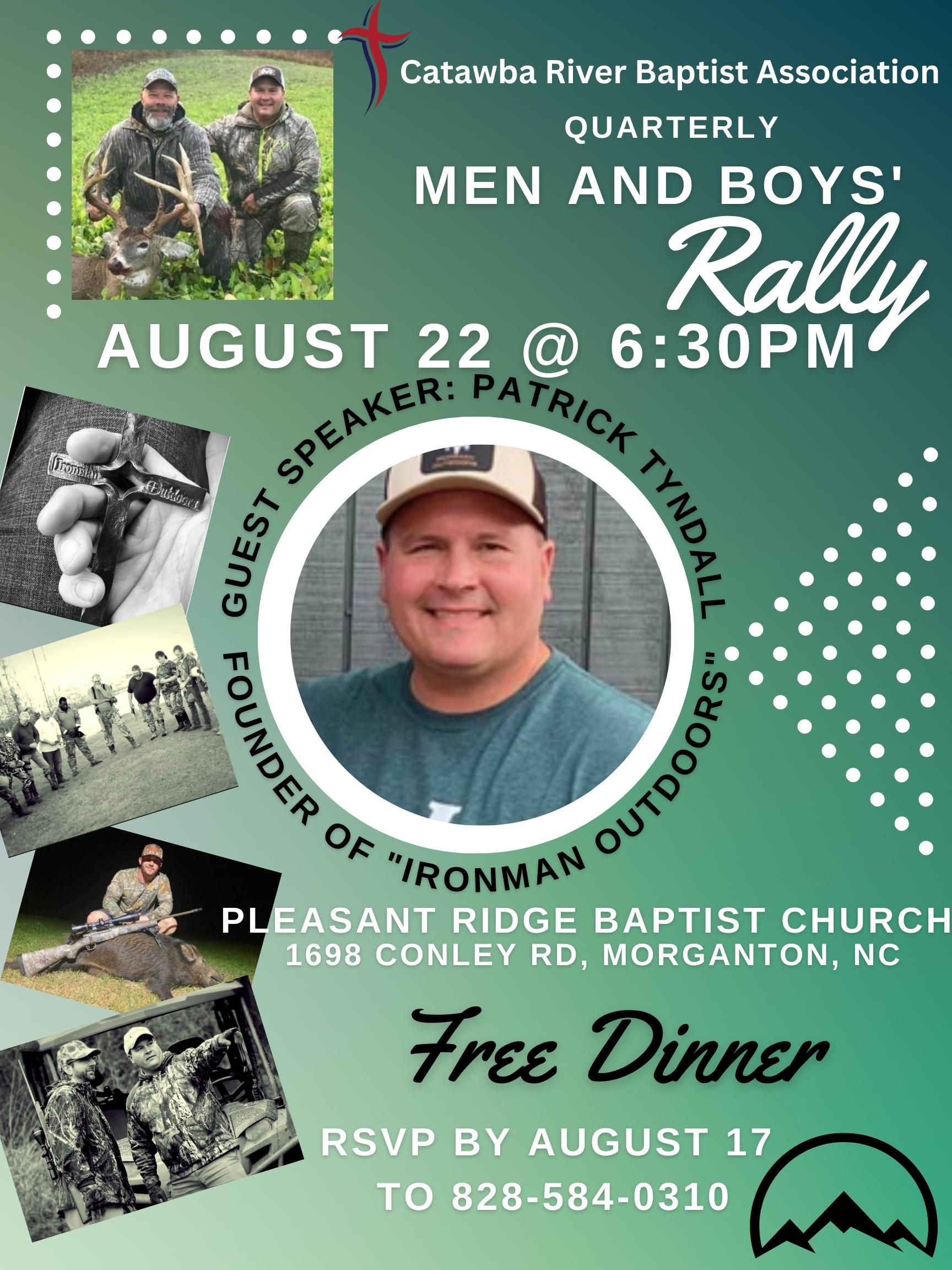 To claim a school for LoveLOUD 2023 please call our CRBA office. Because of the increase in food costs, each meal is $7.47.  If your church would like to participate but needs financial assistance with the food, please contact Brother Robby at our CRBA office. Please respond this week as we need to finallize plans ASAP.  Chick-fil-A in Morganton will again cater the meals. 

This is going to be a great time of prayer and worship. Please join us as we lift prayer and praise to our Lord and Savior. Also, if you would like to be part of this wonderful choir please join us for rehearsal this Sunday at 5 p.m. at Pleasant Ridge.  


  Our Associational churches are very excited to host our 29th Annual Toy Store for those in need in Burke County. To help fund this important ministry we host an annual benefit golf tournament. As part of the tournament, we encourage churches and businesses to become hole sponsors. Hole sponsorships are from $100 to $500. If you, your church, or your business would like to sponsor a hole please scan the above QR code or call our CRBA office. This is a wonderful opportunity to bless 800 children and their families  


Local Mission Opportunities
We have been contacted by a senior adult who is struggling with cancer and needs help getting her lawn mowed.  She lives on Grandview Ave. in Morganton.  If you or your church can help, please contact our office (828) 437-0137 for more information.

We have been contacted by a social worker for a disabled veteran on Crystal Creek Rd. in Morganton.  He is in need of someone to come out and connect an existing septic tank to his home.  If you or your church are able to help with this need please contact us at (828) 437-0137.

An elderly lady in Morganton is in need of a roof patch to keep the water out of her home.  If you are able to assist with this need please call us at (828) 437-0137.

J. Iverson Riddle is looking for volunteers to push wheelchair residents to and from chapel services.  For more information contact 828-608-6212


     

How to Have a More Outwardly-Facing Group by Ken Braddy Jr. at kenbraddy.com     In time, every group will turn inward. My friend, and former Lifeway Sunday School Director, David Francis, said it this way: "The natural momentum of any group is to turn inward." Why, you ask? Because over time after praying together, studying the Bible together, serving together, and growing in relationship together, groups think less and less about people who our outside the group. But there are some ways to have an outwardly-facing group as you fight against the tendency to turn inward.
Pray for spiritually lost persons. Leading your group to pray for people who need the lord is a powerful way to communicate that your group exists to reach others.
Invite guests to every fun activity. Guests like to have fun, too, so assigning them to people in your group who will contact them and invite them to your group's movie night, hamburger cookout, or Saturday road trip will keep your group members mindful that there's still room for more people.
Wear name tags. The "Hello, My Name Is…" name tags should be worn weekly in your group. When guests arrive and put one on, everyone in the group is able to call them by name, which helps the guest (and you) build relationships quickly. The name tags also serve as a visible reminder that although your group members probably know one another's names, you're expecting new people every time the group meets.
Enlist a group Greeter. This person's job is to watch for new people to come into the group weekly, and when they do, he or she takes on the job of personally welcoming them and introducing them to other people in the group. Relationships are key to helping new people "stick" in your group, and that's what group Greeters do.
Make hospitality everyone's job. Although you have enlisted a group Greeter (#4 above), be sure that  If you'll begin working on these 5 options, you'll be on your way to making your group more outwardly-facing. Pick one or two, do those well, then add a third and fourth, and finally the fifth one. Don't feel that you have to do all five right now, but if you can, go for it! In time, you'll have a more outwardly-facing group, and that's great for them, great for the people you'll reach, and great for your church.

If you want to continue learning about how to be more welcoming, I recommend that you read Tom Rainer's book, How to be a Welcoming Church. It's short on purpose! You can read it in one sitting, then add his thoughts to mine in this post, and you'll have multiple ways to help your group be more welcoming and mindful of newcomers.    
 
  To learn of dozens of creative ideas to help you and your church reach your community for Christ, go to our YouTube channel at https://www.youtube.com/@CRBANC/videos and there you will find dozens of videos sharing creative ideas to be involved in the community. While there, please subscribe to our channel so you can get the latest from your Catawba River Baptist Association.   

CRBA Resource of the Week



This Popcorn Machine (1 of two) is a great CRBA resource for events such as summer Block Parties as well as Fall events. This great resource is available to any of our CRBA churches for church and outreach events. To reserve it for your next event, please call the CRBA office at 828-437-0137.  

Church News

Enon Baptist is seeking a full-time Pastor.  Please send all inquiries or resumes to ebcpastorsearchcommittee2023@gmail.com.

First Baptist Icard is seeking a ministry intern.  Email mpardue@fbicard.org for more information.

First Hmong has 12 long pews and 2 shorter pews to give to anyone who can use them.  Please contact Pao Ly 828-448-0534 or Davee Ly at 828-448-0533 if you are interested.  



Grace Baptist is seeking a part-time Associate Pastor.  Please send all inquiries or resumes to Drew Wheeler:  drwheeler515@gmail.com
They are also seeking a part-time Youth Minister.  Please send all inquiries or resumes to Roy Coffey:  roycoffeyconstruction@gmail.com

Grace Baptist- invites you to join them on a trip to the Sight & Sound Theatre in Lancaster, PA.  The cost is $415 per person and includes room, 3 meals and 2 shows.  Dates are August 7-11.  If you are interested please contact Lori Benton (828) 413-4524




Hopewell Baptist is seeking a part-time Music Director.  The skill of music reading is a requirement.  Please send resumes to: HBCsecretary2016@gmail.com

They are also seeking a full-time Pastor.  Please send a current resume and references for review to: HBCpastorsearchcommittee2023@gmail.com

Icard's Grove Baptist is seeking a bi-vocational Pastor.

Oak Ridge Baptist has 35 padded, emerald green (they look blue in picture though), wooden chairs that need a new home.  If you are interested please contact Tammy at 828-874-0891



Pleasant Hill Baptist has the following staff positions open: Part-time Children's Ministry Director and Part-time Youth Pastor/Director.  Both job descriptions are available here.  They are currently accepting resumes for both positions, any questions or resumes can be directed to Dr. Jack Hodges at 828-437-4082 (Church office)  or jackhodges@pleasanthillbc.church. 

Pleasant Hill Baptist invites you to a Pricilla Shirer Simulcast on August 26th from 9:30-5:00.  Lunch will be included and cost is $30.  Please call 828-437-4082 by June 30th to sign up.





Zion Baptist invites you to a Back to School Bash on August 19th. 



Partner News

Community Bible Study will hold its annual kickoff event on Tuesday, August 22, at 7:00 p.m. at First Baptist Church at 702 W. Union St. in Morganton. Information about this year's class will be shared. All are welcome to attend, and interpreters for the Deaf will be available. Contact Millie King at millie.king.cbs@gmail.com for more details.


 

Regional Rallies to be Held in August

Next month, Baptists on Mission will host a series of Regional Mission Rallies across the state. These rallies (10 of them) are a great way to get your church aware of and involved in Missions! They will be held on August 21, 22 or 24. Check the link below for the location that is closest to you. The rallies will highlight the variety of opportunities NC Baptists have to be involved in missions. There will be worship, short testimonies, mission videos, and a prayer time for missions. Everyone interested in missions is encouraged to attend. The main focus of these rallies will be state, national, and international mission opportunities (including Disaster Relief) and the NC Missions Offering.
 
A meal is provided at the Mission Rallies at no charge, but reservations are necessary to ensure an accurate meal count. The cut-off date for reserving a meal for each Rally is one week prior to the event. To register, click on the link below, then click on the "Details/Register" button of the regional rally that you want to attend and register the number of people who will be coming with you. You can also register by phone by calling Melanie Crawford at 919-459-5596. The meal will begin at 5:45 pm, followed by the program from 6:50 pm-8:30 pm. Please go ahead and sign up and bring a group from your church!
https://baptistsonmission.org/events/region-rallies

 


Barnardsville Baptist Church  is seeking a Bi-vocational Pastor.  to apply send your resume, your personal salvation testimony, how you received your call to the ministry, and cover letter explaining why this position would fit your strengths, gifts and passions to:
Barnardsvile Baptist Church
Pastoral Search Committee
PO Box 8
Barnardsville, NC  28709

Glenwood Baptist Church is seeking a man of God to be our full-time pastor.  If interested, please submit your resume to:
Glenwood Baptist Church
Attn: Pastor Search Committee
PO Box 218
Glenwood, NC 28737
or online at glenwoodbaptistchurch@yahoo.com. 

First Baptist Church of Lincolnton, NC: 
Wanted: Part-time Facilities Manager who has demonstrated maintenance experience.  If interested, please send a resume to First Baptist Church, Attn: Dr. Stanley Spence, 201 Robin Road, Lincolnton, NC 28092, or email Vicki.moore@fbclincolnton.org.