CRBA Update                February 22, 2018
I know each of you and all of our churches are concerned for those lost without Christ (63,000) in Burke County. While most in Burke County do not have a relationship with Christ there are areas where lostness is more concentrated. These are the areas we want to place significant emphasis, so please join me on Monday, March 12th at 10 a.m. as we share where these pockets are and then work together to find creative ways to reach them for Christ. We will have special guests from the Convention of N.C. and the North American Mission Board joining us so please do all you can to make this a priority on your calendar. This is for all pastors/staff and leadership and will include lunch.
Catawba River Baptist Association will be hosting a Leadership Roundtable for Senior Adult Church Ministries in Burke County on Tuesday, March 13th at 1:30 p.m. at our CRBA office in Morganton. This will be a time of brainstorming and information as Debra Kuykendall from the North Carolina Baptist Aging Ministry shares some creative ideas that can be used for Senior Adult ministries in local churches. Please join us for this fun and inspiring event.

We are beginning something new at CRBA and we hope God will use it to reach many more for Christ. I met with our pastors last week and we discussed the need for additional funding to support the mission work of our Association. God is doing a good work here and we are looking forward to helping our churches reach many more families for Jesus. Therefore, we are asking each of our churches to be an "Above & Beyond Church" to help our Association to be totally funded as it partners with churches to reach communities for Christ. Above & Beyond churches (as we are classifying them) are churches who have asked the Lord to show them how much additional financial support (in addition to what they are already giving) He wants them to give to Associational Missions through the Catawba River Baptist Association. While we are attempting to raise additional support through our churches we are also endeavoring to reduce our indebtedness prior to August 2018 which will help us have additional resources to fund mission work right here in Burke county. Please make this a matter of prayer as we strive to bring the Gospel to the 63,000 unreached people in Burke County.
This year's Associational Bible Drill and Speaker's Tournament will be Sunday, March 18th at 3 p.m. at Wilkies Grove Baptist Church in Connelly Springs. Bible Drill (Children & Youth) and Speakers Tournament (Youth) ministries are a great discipleship tool that helps students learn and memorize God's Word. For more information on this important discipleship ministry please give us a call at our CRBA office.
Our annual CRBA Racer day will be Saturday, February 24 at Oak Ridge Baptist Church. We will begin registering cars at 9:00 a.m. and begin races at 10:00 a.m. There will be a $5 charge for each car registered and lunch will be provided for all in attendance at noon. The usual categories for racing will be offered: RA 1-3, RA 4-6, Challengers, GA 1-3, GA 4-6, Acteens, Adult, and the same categories will be judged for design as well. Cars entered for design only must meet all racing specifications. There will be three awards in each category for racing and for design. This will be a fun day and we encourage families to attend.
​Please join us at the CRBA Office on February 26 at 6:30 p.m. for an informational meeting about the upcoming Chicago Mission Trip. The dates for the trip are July 21-28.
Join us Tuesday evening, April 24th at 5:15 p.m. for our CRBA Spring Meeting/God Story Session at Hopewell Baptist in Morganton. This will be a time of inspirational God Stories depicting how God is using this Association of 66 churches to reach communities for Christ. The cost is $6 per person and reservations must be made by calling 828-437-0137 or through email http://admin@crbanc.org
OUT of the Box
(Creative Ideas to Reach our Community for Christ)
PRE-EASTER: INVITING YOUR COMMUNITY
(adapted from Outreach Magazine)
1. Easter kindness. Easter is often more inwardly focused than Christmas and Thanksgiving. This year, mark Easter weekend with a significant act of service to your community (restore hiking trails, host a dinner for the homeless and underprivileged, hold a blood drive, run a 10K for a local women's shelter, etc.) and invite your community to join with your church.
2. Easter signs. In cities where increasing restrictions are affecting public signage, creative churches are using silk-screened, corrugated plastic yard signs. Planted on church members' front lawns, the signs invite neighbors to Easter services and outreach events.
3. One card. One guest. Hand out printed invitations to Easter worship services to all of your regular attendees. Ask them to pray for one person God is leading them to invite. Members either mail or hand-deliver the invitations to those people they've been praying for.
4. Palm Sunday reflection. The Sunday before Easter, invite your community to join you for a meaningful time of spiritual reflection. Consider creating sacred spaces that guide people through the events leading up to the cross. It helps prepare people mentally, emotionally and spiritually for the Holy Week. You may want to borrow from the liturgy of other churches to help create the sacred environment.
5. Email invitations. In addition to direct mail, signage, fliers and other materials, promote your Easter service with an e-card that can easily be forwarded along with a personal note from your members.
6. Spring cleanup. The week before Easter, host a huge, communitywide garage sale to benefit a local charity or cause. Offer a tax receipt to any donors and even offer to pick up larger items. Make it a fun community event by providing food, music and fliers promoting your church's Easter week activities.
7. Egg-vitations. The Sunday before Easter, give children 10 plastic eggs with candy and an invitation for their friends and families to attend the Easter service. It is great to see children involved as inviters.
8. Last Supper re-enactment. Attract art appreciators to a Maundy Thursday drama of the scene, using Scripture as a script and DaVinci's painting for costume and backdrop inspiration.
9. Artists at the Foot of the Cross gallery. Turn a multipurpose room into a gallery of crucifixion art, poetry and music created by people of all ages. Invite the community to participate.
10. Easter Parade to go. Contact a local senior center or assisted living community and ask if your church may bring residents a nostalgic evening of the Irving Berlin classic film, popcorn and lemonade.
11. Free car wash. Organize a car wash free of charge with no strings attached. Just leave a small Easter card with your church's Easter worship activities in each vehicle.
Ministry Partner News
Grace Baptist Church is currently seeking a Minister of Music (part-time). If interested please contact Grace Baptist Church at 828-433-1508 or gbcmorganton@gmail.com
Catawba Valley Baptist Church is currently seeking two people to join their staff. The positions are:
Minister of Music/Associate Pastor (full-time)
Church Pianist
If interested please contact pastor Dean Hart @ 828-850-0402 or pastordeancvbc@gmail.com
Join the Pregnancy Care Center as they celebrate 31 years of promoting and advocating life for babies, women, and families all across Burke County. The night will feature music by the Hipps Family, comedy by local comedian Bob Clark, and featuring speaker Henry Jernigan. Henry is a highly regarded pro-life speaker who has worked professionally in film, TV, radio, and theater. His messages combine humor and real life circumstances to enlighten communities about the amazing work of their local pregnancy center motivating them to get involved. Bring your church, your friends, or even your significant other for a night out! This is a free ticketed event, a love offering and pledge opportunity will take place at the end of the night for all who would like to be a part of the ministry of PCCOB.
The event will take place March 15th at 6 p.m. at Mount Home Baptist Church. To register and for more information please call 828-437-4357.
Come out and support the 2nd Annual South Mountain Baptist Camp 5K & Fun Run on Saturday, March 10th at Catawba Meadows Park in Morganton, NC! Registration will begin at 8AM, the 5K will begin at 9AM, and the 1-Mile Fun Run will begin at 9:45AM. There will be prizes for top finishers in each age category, as well as special treats waiting for everyone when they cross the finish line! Let your kids have fun by dressing up as their favorite superhero or princess for the Fun Run. You can register online at www.racesonline.com and searching "South Mountain Baptist Camp". We hope to see you all there!
​Join Debra Kuykendall at Rich Fork Baptist Church for the AAIM's Senior Adult Ministry State Leadership Conference on Tuesday, May 1, 2018 from 9:30 am to 3:00 pm. For more information and to register visit http://www.ncbam.org/aaim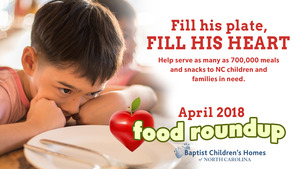 The Annual Baptist Children's Homes Food Roundup is coming up and we need your help. All of the items that are donated go to help feed children in need. Please take the time to look over the list below and bring any donations to the CRBA office. If you have any questions please call our office at 828-437-0137.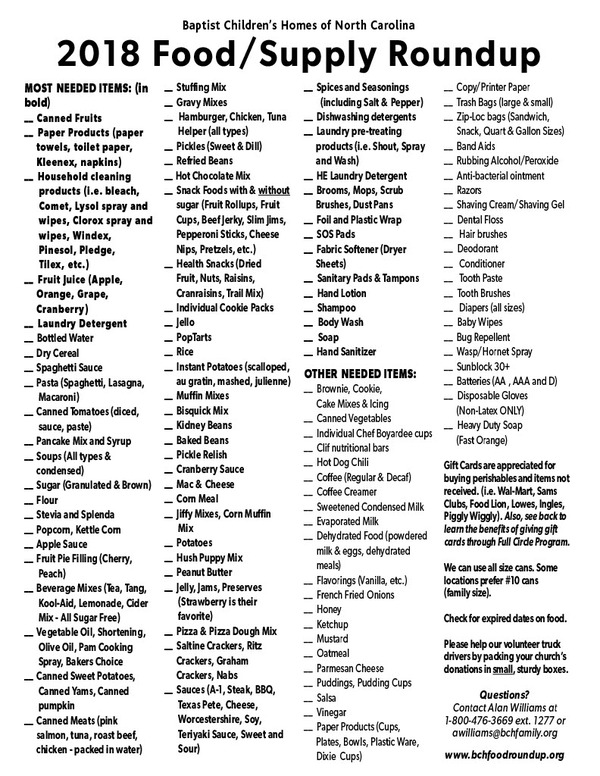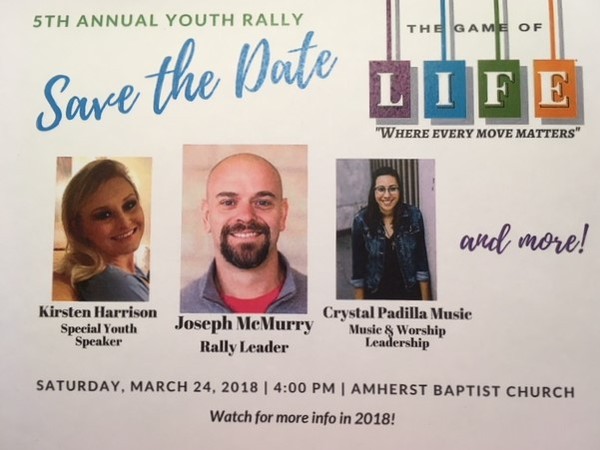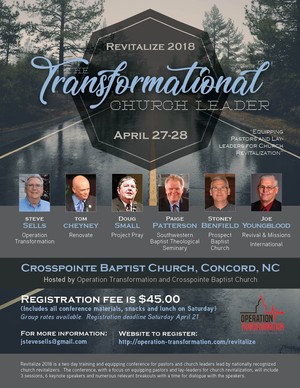 Please be in prayer for this week's Churches of the Week:
​​
Central
(pastor Thom Harman)
Community
(pastor Tony Land)
Connelly Spring FBC
(pastor Danny Townsend)
Cornerstone
(interim pastor David Smith)
Cross Memorial
(pastor Jeff Beach)
​
Churches without Senior Pastors:
Amherst
Antioch
Brown Mountain
Burkemont
​Cornerstone
El Bethel
Mountain View #1
​Oak Ridge
​"When we understand that the people on our rolls are persons for whom Jesus died, we will treasure any and every contact with them. When we prune them from our roll, we forfeit opportunities to touch their lives for the kingdom of God. Don't prune them; go find them."
​-Ken Hemphill, Bonsai Theory of Church Growth
Upcoming Events
February
24–CRBA RA Racer Day
​26–​Chicago Mission Trip Information Meeting @ 6:30 pm at CRBA
March
12–Pockets of Lostness Training March 12th @ CRBA from 10-1 (includes lunch)
17–State RA Racer Day
18–Associational Bible Drill & Speakers Tournament @ Wilkies Grove @ 3 p.m.
19–Church Financial Planning Seminar @ CRBA @ 7 pm
30–Good Friday
April
1–Easter
12–Senior Adult Spring Outing @ noon
13-14–United Youth Event @ Pleasant Ridge
23–S.S. Director/Pastor Roundtable @ 6:30 p.m. @ CRBA
24-CRBA Spring Meeting and God Story Session @ Hopewell @ 5:15
May
1–WMU Spring Missions Meeting @ 6:15
1-10–Mission Trip to Solor, Indonesia
3–National Day of Prayer
4–Region 8 Disaster Relief Training (Iredell County)
7-9–Senior Adult Revival
@ Summit
13–Mother's Day
19–RA Field Day @ Zion from 1-6 p.m.
20–Associational Missions Emphasis Week and Offering
20–Children's Skating Party 2-4
22-​Friends of CRBA Banquet @ Mount Home @ 6:00 p.m.
28–CRBA Office closed in observance of Memorial Day
June
10-13–SBC
17–Father's Day
July
4–CRBA Office closed in observance of Independence Day
16-21–World Changers CRBA
​21-28-Chicago Mission Trip
August
4-10–Chicago Mission Trip
9–CRBA Seminary Classes Begin
13–Region 8 Missions Conference
20-25–LoveLOUD
28–Men's Rally @ 6 p.m.
September
3–CRBA Office closed in observance of Labor Day
11–Equip Conference from 6-9 p.m.
30–Harvest Day @ the CoMMA with Tony Nolan
October
4–Senior Adult Fall Event
21–Fall CRBA Meeting and Worship Celebration @ Mount Home
November
5-6–N.C. Baptist Convention
19–Region 8 Men's Ministry Worship Rally
Monthly Events
​–Minister's Wives Fellowship @ Abele's in Morganton @ 5:30 the first Thursday of every month