CRBA Update                   _________                     March 15, 2018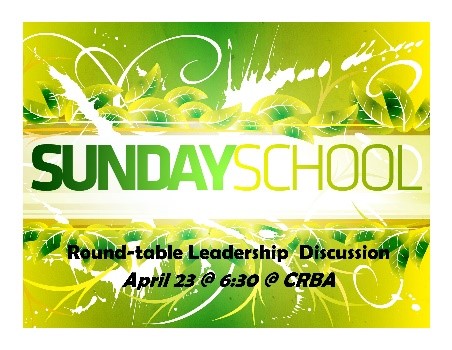 Our Sunday School Leadership Round-table training is designed to help Sunday School Directors, Teachers, and Pastors strengthen and grow their churches through discipleship using Sunday School as the tool. This will be a great time of sharing and receiving ideas so please join us at 6:30 on Monday, April 23rd at the Catawba River Baptist Association. Our Director of Missions (Robby Smith) will be leading the discussion.
HELP NEEDED! As many of you know, we are renovating the house behind the CRBA office in order to sell it and apply the proceeds from the sale of the house to the existing debt (mortgage on the property) which is currently $240,500. At this point a tremendous amount of work has been accomplished with the help of Stephen Daniel and others. While much has been accomplished there is much work to still be done. That being said, it is time to come together and get it finished. We are looking for volunteers to help us finish this important project. If you are willing to help with any of the following tasks, please give us a call at our CRBA office.
         Install plumbing fixtures (tubs, sinks, etc.)
         Painting
         Hanging Doors
         Trim Work
         Flooring​
​
We are already working on this year's Toy Store Ministry and we need your help. We are beginning to work on the stockings to be given out and we are in need of fabric. If you have fabric appropriate for stockings and are willing to donate it, please bring your donations to our CRBA office. Your help is greatly appreciated.
OUT of the Box
(Creative Ideas to Reach our Community for Christ)
(Creative Ideas to Reach Senior Adults)
         Begin a Senior Adult Choir
         Host a Senior Adult Retreat
         Begin an exercise class for Senior Adults
         Begin a Handyman Ministry run by Senior Adults
         Teach Senior Adults to be Inviters (to your church)
         Host monthly Lunch N' Learn
         Involve Senior Adults in ministries such as "Backpacks  for Appalachia"
         Begin a Smoke Alarm Installation Ministry for Senior Adults to lead
         Plan a Summer or Fall Senior Adult Mission Trip
         Begin a Senior Adult Yard Ministry
         Develop a Senior Adult Care Team Ministry
         Involve Senior Adults in Disaster Relief
         Plan a Holy Land Trip designed for Senior Adults
         Begin a weekly Senior Adult Bible Study during daytime hours
         Begin a Wheelchair Ramp ministry led by Senior Adults
Ministry Partner News
 
Grace Baptist Church is currently seeking a Minister of Music (part-time). If interested please contact Grace Baptist Church at 828-433-1508 or gbcmorganton@gmail.com
Catawba Valley Baptist Church is currently seeking two people to join their staff. The positions are:
Minister of Music/Associate Pastor (full-time)
Church Pianist
If interested please contact pastor Dean Hart @ 828-850-0402 or pastordeancvbc@gmail.com
​CRBA Office ​has a portable baptistry to give away free of charge. If your church is interested please contact Amy at the office 828-437-0137.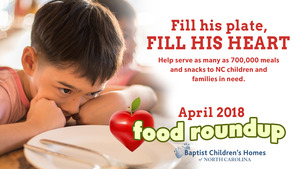 The Annual Baptist Children's Homes Food Roundup is coming up and we need your help. All of the items that are donated go to help feed children in need. Please take the time to look over the list below and bring any donations to the CRBA office. If you have any questions please call our office at
828-437-0137
.
Grace Baptist Church 
presents
​"The Worst Sinner Who Ever Lived"
March 24 and 25 @ 6pm
Call the church office for information or tickets
​828-433-1508
Mimosa Christian Counseling Center


For 14 years, Mimosa Christian Counseling Center (MCCC) of Morganton has been integrating professional counseling methods with Biblical truths and principles.      Both the Holy Spirit in emotional healing and a person's relationship with God and others are recognized as vital components in Christian counseling.  The MCCC counselors are professionally trained and licensed therapists who have completed their masters or doctoral education.  Also, they are caring and compassionate about helping those in need to experience hope, joy, and love.
The center serves individuals from age 6 to 64, adolescents, adults, families, and couples, and most insurance plans are accepted.  Payments can be individualized if needed.  Some types of needs served include depression, grief, marital and pre-marital issues, recovery, trauma, abuse, and relational issues and concerns.
MCCC is excited to announce the recent addition of Callie Perez, who is a national certified licensed professional associate.  She recently finished her internship where she worked with a wide variety of clients, mainly children.  Callie is currently applying for membership in insurance panels and is already scheduling clients.
The Center is under the leadership of Dr. Jane Rawson, and its ministry is supported by a board of directors representing various area churches.  It is located at 220 Burkemont Avenue in Morganton.  You may contact the Center at
(828) 433-5600
and view our website at
www.visitmccc.org
for more information.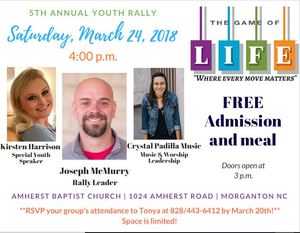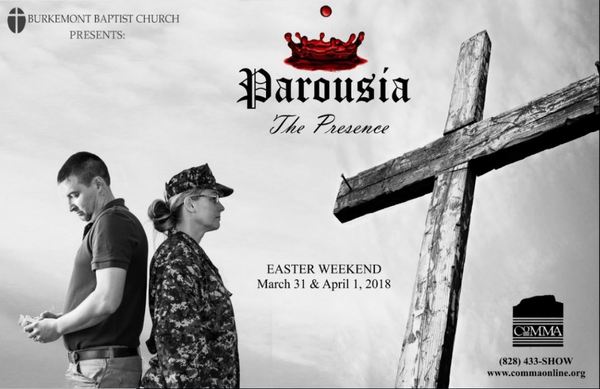 Please be in prayer for this week's Churches of the Week:
​​
High Peak
(Pastor Kevin Purcell)
Hopewell
(Pastor Danny Emory)
Icards Grove
(Pastor Chris Decker)
Lakeview
(Pastor Shane Epps)
Missionary Ridge
(Pastor Chris Dale)
​Churches without Senior Pastors:
Amherst
Antioch
Brown Mountain
Burkemont
​Cornerstone
El Bethel
Mountain View #1
​North Morganton (May 1st)
​Oak Ridge
God is under no obligation to resource our plans for His church. But He will spare no riches of Heaven to resource His plan for His church.
​-Mark Clifton