CRBA Update                   ________________                     March 22, 2018
CRBA Office ​has a portable baptistry to give away free of charge. If your church is interested please contact Amy at the office 828-437-0137.
---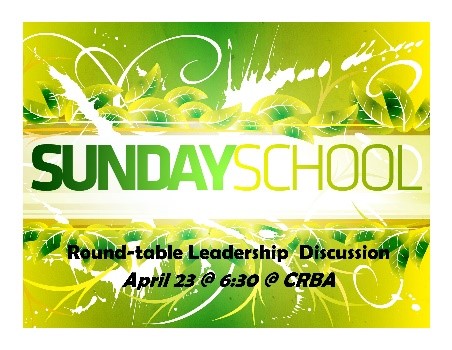 Our Sunday School Leadership Round-table training is designed to help Sunday School Directors, Teachers, and Pastors strengthen and grow their churches through discipleship using Sunday School as the tool. This will be a great time of sharing and receiving ideas so please join us at 6:30 on Monday, April 23rd at the Catawba River Baptist Association. Our Director of Missions (Robby Smith) will be leading the discussion.
---
All RA & GA groups are invited for a fun evening at East Valdese Church. Please call or message Phillip Heavner or call the church office at
828-874-0511 to register or with any questions.
There will be a $3 per person charge.
---
HELP NEEDED! As many of you know, we are renovating the house behind the CRBA office in order to sell it and apply the proceeds from the sale of the house to the existing debt (mortgage on the property) which is currently $240,500. At this point a tremendous amount of work has been accomplished with the help of Stephen Daniel and others. While much has been accomplished there is much work to still be done. That being said, it is time to come together and get it finished. We are looking for volunteers to help us finish this important project. If you are willing to help with any of the following tasks, please give us a call at our CRBA office.
         Install plumbing fixtures (tubs, sinks, etc.)
         Painting
         Hanging Doors
         Trim Work
         Flooring​
​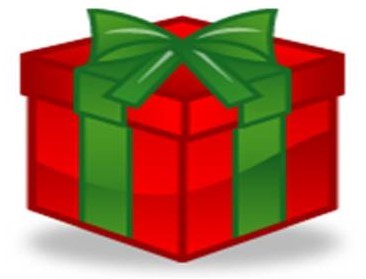 We are already working on this year's Toy Store Ministry and we need your help. We are beginning to work on the stockings to be given out and are in need of fabric. If you have fabric appropriate for stockings and are willing to donate it, please bring your donations to our CRBA office. Your help is greatly appreciated.
---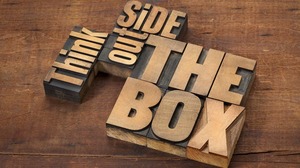 OUT of the Box
(Creative ideas for churches helping families with special needs children by Carol Hicks)
Parent Questionnaire- find out about the child with disabilities- the information will be helpful for church volunteers
Invite a special needs child to the church during the week for a tour. It is much quieter and they get used to the space. It also allows you to begin to build a relationship with him/her.
Consistent schedule is important- kids thrive on a regular routine.
Visual supports help kids understand what is coming next
If/then for behaviors:   If you do this….  Then…. you can do this
Buddies and sidekicks program:  assign a volunteer buddy to a special needs child
Utilize the youth at the church as buddies- depending on maturity
Think about creating a sensory space where kids can get their energy out- do not expect a child to sit and sit- movement can be used to a volunteer's advantage
Calming room- darker colors and quiet music for the kids to relax and unwind. Maybe a tent or squishy chair to help them relax
Talk to the families to find out what their needs are- consider starting a parent advisory team
Fluorescent lights give off a buzz noise- consider using alternative lighting
Host a respite night for parents- offer to watch the kids while the parents have a couple hours off- they need a break too
Train volunteers to help meet the needs of the special needs children
Disability awareness and etiquette training is important- what language to use and not to use regarding people affected by disability, how to interact with people's mobility equipment, etc.
Speak words of encouragement to kids and their families- try not to complain (use words wisely)
Offer a family worship outside of the main sanctuary through the use of video and audio accommodations
---
Ministry Partner News
Grace Baptist Church is currently seeking a Minister of Music (part-time). If interested please contact Grace Baptist Church at 828-433-1508 or gbcmorganton@gmail.com
---
Catawba Valley Baptist Church is currently seeking two people to join their staff. The positions are:
Minister of Music/Associate Pastor (full-time)
Church Pianist
If interested please contact pastor Dean Hart @ 828-850-0402 or pastordeancvbc@gmail.com
---
Zion Baptist Church ​is currently seeking a 15 passenger van to purchase. Please contact Doyle Beck at 828-403-8474 with any information.
Grace Baptist Church 
presents
​"The Worst Sinner Who Ever Lived"
March 24 and 25 @ 6pm
Call the church office for information or tickets
​828-433-1508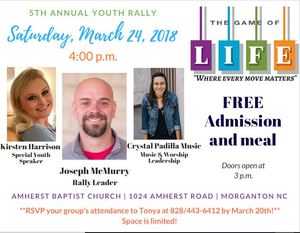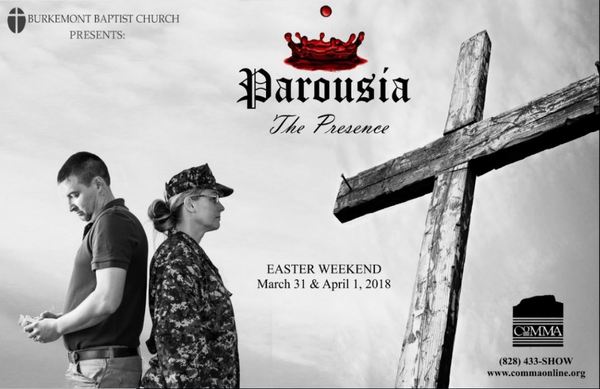 Please be in prayer for this week's Churches of the Week:
​​
FBC Morganton
​(Pastor Tom Bland)
FBC Morganton Deaf
​(Tom Lineberger)
Mount Calvary
(Pastor Jeff Carter)
​Mount Home 
(Pastor Jerry Gamble)
Mount Olive
(Pastor Michael Gantt)
​Churches without Senior Pastors:
Amherst
Antioch
Brown Mountain
Burkemont
​Cornerstone
El Bethel
Mountain View #1
​North Morganton (May 1st)
​Oak Ridge
In order for us to be sensitive to the Spirit's leading, we must spend time getting to know His voice because the more intimately we know Him, the easier it will be to hear His voice above all others.

–David Jeremiah