The investigation into sexual abuse allegations and the actions and responses of our SBC Executive Committee leadership has been underway since last fall. This past Sunday, the report* of Guidepost Solutions' investigation and findings were made public. That 288-page report communicates that survivors of abuse and advocates for change were met with "resistance, stonewalling, and even outright hostility" from some members of the Executive Committee of the SBC when they shared their stories of abuse or when they spoke out in favor of cultural and structural changes.

We are saddened and grieved as the reports of sexual abuse, the cover-ups, the dishonesty, the lack of integrity, and more were revealed in the findings of the report.

This is a time to lament – to express deep regret, grief and sorrow. This is also a time to pray, seek God together, humble ourselves before Him, ask that He forgive, heal, help those who are victims and survivors, and show us and our leaders the way into a better future.

We must be preparing ourselves to do better, listen well, and more. But first, we need to lament and pray. It is time to do what James 4 tells us: "Draw near to God and He will draw near to you…Be wretched, mourn, and weep…Humble yourselves before the Lord, and He will lift you up."

Since the SBC will meet in Anaheim on June 14-15, we call the churches of our association to a focused season of prayer between now and then. Please use the prayer prompts and Scripture below to help us pray well together.

Pray:
That we will take time to grieve, to be sorrowful, to hurt together before the Lord because of the abuse, neglect, and sin that has taken place. (James 4:8-10)
That we as Southern Baptists will hear with grieving hearts the contents of the report and humble ourselves before the Lord. (Daniel 9:3-5)
That each of us would be committed to pursuing holiness and purity, living and serving in a way that honors God and blesses others. (1 Peter 1:13-25)
That those who have been victims of sexual abuse will know that they are cared for and that we will listen and help in every way possible. (Psalm 34:22)
That those who have victimized others will repent of their sin and accept the consequences of their behavior. (Psalm 51:1-4)
That churches will turn from indifference to attentiveness, from defensiveness to caring, from protecting ourselves to protecting those who are hurting. (1 Peter 4:7-9)
That our churches will be safe, helping places for those in need.  (Galatians 5:13)
That our churches will be actively working to make sure the women, children, and all we serve are protected from any who would cause abuse or harm. (Galatians 6:2)
That the messengers attending the SBC meeting in Anaheim will be prayerfully preparing for this important time together, humbled and ready to follow Jesus together. (1 Peter 5:6-7)
For protection from the attacks of the enemy as we walk and serve through these days. (1 Peter 5:8-11)
For a renewed readiness to live out the Great Commandment, loving our Lord and loving our neighbors in a selfless manner. (Matthew 22:37-40)

Thank you for joining us in prayer through the coming days. Know that your Association is working to make sure our churches are equipped to deal with the situations we face, especially those in or connected to our congregations who have experienced sexual abuse.

Lastly, as the Executive Director/Treasurer of the Baptist Convention recently said, "remember that we are N.C. Baptists on mission together. No matter what happens in other state or national conventions, we will stand on God's Word, follow the Holy Spirit, and put the Great Commission on our backs with Revelation 5 as our destination."

Your Catawba River Baptist Association is here to serve our churches. Please contact us and let us know how we can help you.

Blessed to Serve,

Robby Smith -Director of Missions
Luke Lane -Moderator
Justin Cunningham -Vice Moderator

*For more information on the report, here is the link: https://www.sataskforce.net/downloads
We are looking forward to our Mission Trip to Cincinnati from August 4-7. Ministries will include 2 block parties, prayer walking, participating in worship services Saturday evening, and handing out flyers. The approximate cost is $240 per person. Lodging will be at a local hotel and is based on double occupancy.

The deadline to register is June 1st with a non-refundable deposit of $100.
 
To register and for more information, please call our CRBA office at 828-437-0137.
---

We are excited we will be taking a team to Kisumu, Kenya this November. We will be building homes for those in need which will also be used for Bible Studies and Church Plants. In addition to providing homes, there will be opportunities for personal evangelism, prayer walking, preaching, and teaching. The cost is approximately $2,200 (the cost may vary due to travel). For more information and to register, please call our CRBA office. 
The deadline to sign up with a $500 deposit is August 15th.
---
We are also in need of someone who can refurbish bicycles to be given out during Toy Store. If this is part of your giftedness and would like to volunteer, please let us know by calling 828-437-0137.
---

We are happy to announce that Burkemont is bringing the Dental Ministry Trailer from Baptist On Mission to our community. This important ministry will take place on August 18th and 19th and we need your help. The following volunteers are needed:
Dentists, Dental Hygienists, Prayer Counselors, Greeters, folks to provide meals, etc.
If you would like to help with this wonderful ministry, please call Eddy Bunton at Burkemont Baptist. Your help is greatly appreciated.

---
---

Summer outreach in the church parking lot (Ideas from Lifeway)​
Citywide Father's Day cookout and outdoor worship service—"Bring your dad and a lawn chair!"
Citywide kite-flying contest or "Biggest Water-Sprinkler Party in Morganton/Valdese, etc." event for preschoolers or elementary kids.
Move your Sunday evening worship outdoors.
A concert on the lawn or a weekly outdoor fellowship. Use tiki lights, have live Christian music, and serve bottled sodas and water in huge tubs of ice.
Citywide Father's Day cookout and outdoor worship service—"Bring your dad and a lawn chair!"
Citywide kite-flying contest or "Biggest Water-Sprinkler Party in Morganton/Valdese, etc." event for preschoolers or elementary kids.
Move your Sunday evening worship outdoors.
A concert on the lawn or a weekly outdoor fellowship. Use tiki lights, have live Christian music, and serve bottled sodas and water in huge tubs of ice.
---
Church News

Amherst Baptist is seeking a Full-time Pastor. Please send resumes to mpoteet2003@yahoo.com

Icard's Grove Baptist is seeking a bi-vocational Pastor.
Mull's Grove Baptist is seeking a bi-vocational Music Minister. Please send resumes and questions to brodruemgbc@att.net.
Pleasant Hill Baptist is seeking a Piano Accompanist for Wednesday night choir practice (7:00 pm) and Sunday morning service (10:30 am). There will be a stipend offered. Pleasant Hill is also seeking a part-time Worship Leader. Please email questions and resumes to jackhodges@pleasanthillbc.church or mail to:
2396 Enola Rd., Morganton, NC 28655

Southside is seeking a Church Secretary. All questions and resumes should be sent to rlawrencelaw52@gmail.com.

Wilkies Grove is seeking an:
Associate Pastor or Associate Pastor/Minister of Youth & Children FULL-TIME POSITION

Located in eastern Burke County, Wilkies Grove Baptist Church is seeking a full-time Associate Pastor or AP / Minister of Youth & Children who understands and demonstrates the work of the church and is faithful to the conservative values of the Southern Baptist Convention. The church is in a rural setting, south of I-40 between Hickory and Morganton. Wilkies Grove averages an attendance of 240 and is a member of the Catawba River Association. Additional staff includes the senior pastor, youth leader, minister of music, and secretary/treasurer.
Job Descriptions are available at wilkiesgrove.com.

REQUIREMENTS:
Saved by the Grace of God through the acceptance of Jesus Christ as personal Lord and Savior.
A Southern Baptist who agrees with and ascribes to the literal validity and application of the Holy Bible.
Believes the Holy Bible is the inspired and inerrant Word of God.
Licensed and ordained as a minister of the Gospel by a conservative Southern Baptist Church.
A minimum of (3) years of experience in a church leadership role is preferred.
RESPONSIBILITIES:
Proclaim the Gospel as the literal Word of God to the church and assist the church in proclaiming the Gospel to the community.
Partner with the senior pastor and Deacon Board in the governance of the church.
Support the church with attendance and tithes.
Provide assistance to the senior pastor in any area of work, as requested or assigned.
Assist in worship services as needed and at the discretion of the senior pastor.
Serve on church committees and support church-wide initiatives.
Conduct funeral services and wedding ceremonies as requested.
SALARY: Salary commensurate with experience.

CONTACT:
Mr. Chris Bortnick
WGBC Pastor Church Committee, Chair
PHONE: 828.413.0060
EMAIL: bortnick@charter.net
MAIL: Mr. Chris Bortnick
5780 Wilkies Grove Church Road
Hickory, NC 28602

---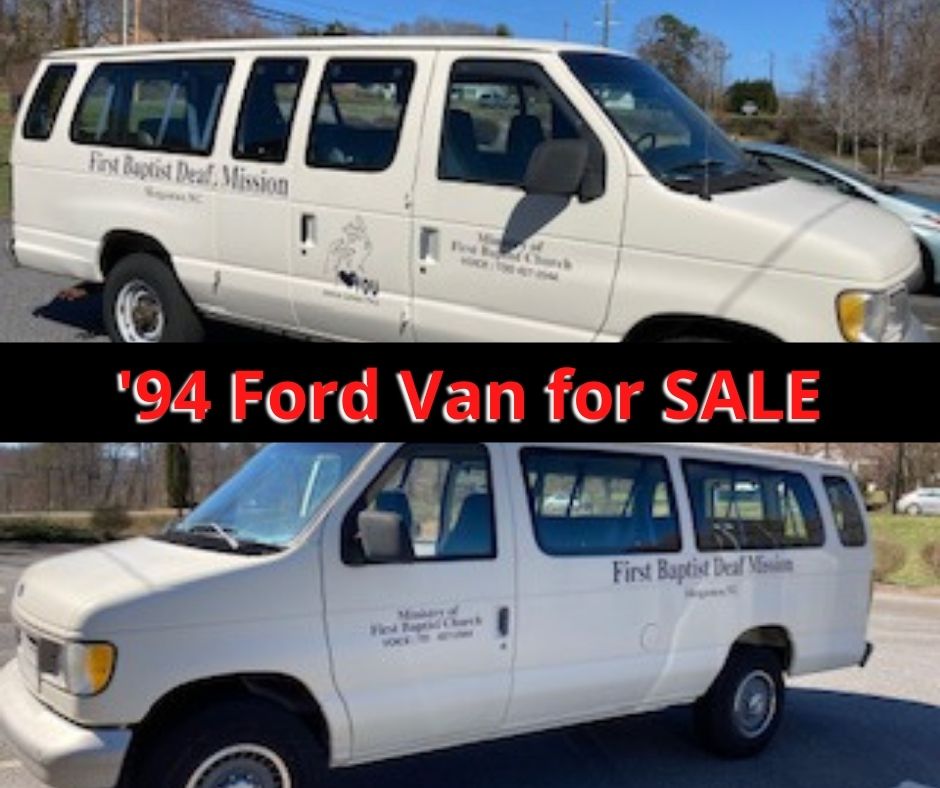 The Deaf Church at FBC Morganton is selling a 1994 Ford Club Wagon Van

5.0-liter engine
Runs good
84,472 miles
New battery
Trailer hitch
Radio DOES NOT work
Side slide-out steps
Asking $3000.00

Please contact Tom Lineberger at (828) 413-0216 for more information.
---
Partner News
Stantonsburg FBC is seeking a pastor and is located 50 miles east of Raleigh. If interested, please send resumes to:
SFBC Pastor Search Team
PO Box 356
Stantonsburg, NC 27883



FBC Hildebrand is seeking an Organist & Part-time Music Director for our church. This is a paid position. This will require you to be here for Sunday & Wednesday services and any special services; revival, cantata, dramas, etc. Please submit your resume to the church office by mail at PO Box 220, Hildebran NC 28637 or you can email your resume to Kendra Arrowood ministry@fbchildebran.com.



Glenwood Baptist Church is seeking a man of God to be our full-time pastor. If interested, please submit your resume to:
Glenwood Baptist Church
Attn: Pastor Search Committee
PO Box 218
Glenwood, NC 28737
or online at glenwoodbaptistchurch@yahoo.com.



Poovey's Grove Baptist Church is seeking a full-time senior pastor. For more information, please contact Classie Whisenant at (828) 381-2500 or classie1994@gmail.com.



First Baptist Church of Lincolnton, NC:
Wanted: Part-time Facilities Manager who has demonstrated maintenance experience. If interested, please send a resume to First Baptist Church, Attn: Dr. Stanley Spence, 201 Robin Road, Lincolnton, NC 28092, or email Vicki.moore@fbclincolnton.org.



The Pregnancy Care Center is hiring an Operations Manager.
Gerresheimer is a local plant looking to hire in several positions. Please visit www.gerresheimer.com for more information and to apply.