CRBA UPDATE November 19, 2020


CRBA TOY STORE MINISTRY
We are getting closer to this year's toy store and we are in need of additional toys. We are still in need of all kinds of new toys but especially legos for older children. If you are still collecting new toys please bring them to our CRBA office during November. If you would rather donate funds to purchase toys for this wonderful ministry you may do so by sending checks to our CRBA office at 1812 US 70 E., Morganton, NC., 28655. Or, you can contribute electronically by going to www.crbanc.org and then click on DONATE. Whether you give or buy toys, please be in prayer for God to do wonderful work in the lives of Burke County families.

Lastly, we still need some volunteers. We are now seeking volunteers to assist with pulling toys for all 187 appointments and putting toys, stockings, and extras in the bags labeled by appointment number. This will happen on 12/1, 12/2, and 12/3. Also, volunteers are needed for 12/7 and 12/8 for four-hour shifts to put bags into vehicles. If you can help with any of these please let us know.

---

Relaunching Sunday School/Small Groups

(Brainstorming with Mike Shillinglaw and Robby Smith)
December 15th at 6:30 p.m. via ZOOM

This will be a great time of information and idea sharing as pastors, Sunday School and Small Groups leaders gather to brainstorm best practices when it comes to relaunching Sunday School and Small Groups. To share in this creative experience please email (admin@crbanc.org) or call our CRA office at 828-437-0137 and the ZOOM link will be given to you. We can have up to 100 participants so feel free to invite anyone who you think might be interested.
---
Listed below is our new list of Associational Officers and Teams who will be serving our Association this coming year. If any of us can be of help to you or your church please let us know. Also, thank you to all who have agreed to serve. We truly appreciate your partnership in reducing spiritual lostness in our communities. To God Be the Glory!

CRBA OFFICERS 2020/2021
Moderator                                                                                                      Kevin Purcell
Vice Moderator                                                                                                   Luke Lane
Clerk                                                                                                         Emily Thompson
Treasurer                                                                                                       Rebecca Ervin
Director of Missions                                                                     (ex-officio) Robby Smith
 
CHURCH STRENGTHENING MINISTRY TEAM
Carol Hicks
Andrew Whisenant (Team Leader)
Giovonnia Hennessee
Brian Buckner

ENDOWMENT TEAM 
Jim Jacumin
Dennis Hamrick (Team Leader)
David Burleson
Tom Eure
Howard Morgan

EVANGELISM (LOCAL MISSIONS) MINISTRY TEAM
Shyrl Stainback
Rex Shaver
Al Tinnin
Justin Cunningham
Keith Rose
Mike Chandler (Team Leader)
 
FINANCE MINISTRY TEAM
Rebecca Ervin (Treasurer) ex-officio member
Brian Barrier
Doug Goforth (Team Leader)
Dennis Hamrick
Patty Smith

MEN'S MINISTRY TEAM (this is a sub-team of the Missions Team)
Steve Lund
Phil Heavner
Art Mosely
Ed Collins
Gene Kirby (Team Leader)

MISSIONS TEAM (State, National, and International)
Gene Kirby (Men's Ministry)
Kevin Purcell (Team Leader)
Stephen Collins
Dwight Winters
Dawn Matthews
Lori Mathews (Women's Ministry)
Jack Hodges
Luke Lane

NOMINATING MINISTRY TEAM
Lori Matthews
Debbie Cramer
Earl Cross (Team Leader)

PERSONNEL TEAM
Jill King
Jerry Stephens (Team Leader)
Cindy Cross
 
SENIOR ADULT TEAM
Claudette Reese
Betty Parlier
Thurmon Roe
Larry Thompson (Team Leader)

SPIRITUAL RENEWAL TEAM
Mike Shillinglaw
Jason Koon
Gail Walden
Angie Morgan
John Terry

STUDENT MINISTRY TEAM
Rocky Hartman
Ethan Cromer
Kevin Gauthier
Greg Klapp (Team Leader)

WOMENS/WMU MINISTRY TEAM (this is a sub-team of the Missions Team)
Lori Matthews (Team Leader)
Emily Martin
Cathy Pritchard
Diana Jones
Barb Purcell
Christy Buchanan

WORSHIP MINISTRY TEAM
Jon Calloway (Team Leader)
Michael Lawhorn
Phillip Shepherd
---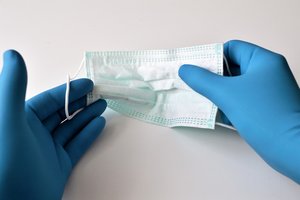 Five Ways Churches
Are Responding to a Second
COVID Spike
by Thom Rainer
This recent study by Thom Rainer answers some of the questions church leaders are asking in response to the recent COVID spike. We hope the reprinting of this study will help our churches navigate through these uncertain times. If we can help your church navigate through these waters of uncertainty please call our CRBA office.
Though a number of pundits told us to expect a second COVID spike, we were all hoping it would not happen. In many areas, the spike has happened.
We at Church Answers are in constant conversation with church leaders, so we were really curious to know how churches are responding. Between our Church Answers' community of 2,000 leaders and social media, we heard directly from over 200 church leaders. They shared five responses that we list here in order of magnitude. 
Taking extra caution. The number one response is a commonsensical response. The church leaders see the COVID numbers on the rise, so they adjust with additional cautions. Several churches strongly encouraged the members to resume wearing masks. A number of churches decided to move their small groups to digital only, even though they began meeting in person just a few weeks earlier.
Making no changes. For the most part, the churches in this second most frequent category felt like their current level of cautions were sufficient. Even with greater numbers of COVID cases, they saw no need to make changes. A few leaders in this category told us that the number of cases in their areas had not increased.
Offering more options. The third most frequent response was making changes by offering more options. The most common option was additional worship services. "We had moved back to our pre-COVID number of services of two," a Pennsylvania pastor told us. "But we are seeing an increase in COVID cases, so we are going back to three services to allow for even more social distancing."
Deciding to close again. This response was a distant fourth. Some leaders thought the numbers of cases warranted their closing again. Many of them actually dreaded the second closing more than the first. They thought a number of church members would give up on attending. The leaders nevertheless decided to close again as an abundance of caution.
Keeping the status quo of not opening. A few of the church leaders told us they had not opened at all since the pandemic began. This second spike in COVID cases meant that most of them would not open until some time in 2021. One pastor shared that his church will not open before April 2021. To be clear, very few churches are in this category.
---
Partner News
Corinth Baptist Church in Vale, NC
---
Church News
Burkemont Baptist has 150 wooden childrens chairs they are willing to donate to a church in need. For more information please contact Giovonnia Hennessee at 828-437-2357

El Bethel Baptist Church in Morganton is seeking a full-time Associate Pastor of Worship and Youth to join their ministerial staff. Please send resumes and questions to worshipleadersearchebbc@gmail.com.

Mull's Grove Baptist is seeking a bi-vocational Minister of Music. Please send resumes and questions to brodruemgbc@att.net.

Pleasant Hill Baptist is seeking a full-time Children's and Youth Ministry Pastor as well as a part-time Worship Pastor/Leader.

Rutherford College First Baptist is seeking a bi-vocational Pastor.

High Peak Baptist Church is hosting: