This week's Update includes information about LoveLoud, Friends of the CRBA Benefit and much more.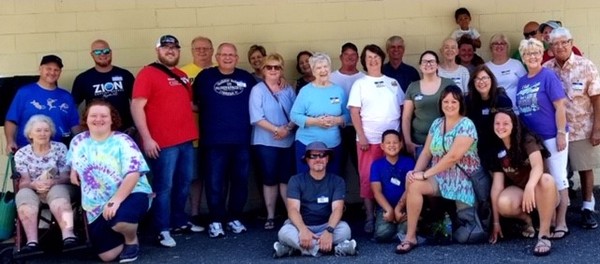 Our CRBA one-day Vacation Bible School for Burke United Christian Ministries was a great success this past Saturday. We had a wonderful turnout with at least 4 people coming to faith in Christ. Thank you to all those who helped with this important event (pictured above) as we played, sang, did crafts, distributed backpacks and school supplies and shared the Gospel. Also, thank you for BUCM for partnering with us in this important ministry to reach moms, dads, boys and girls for Jesus.
---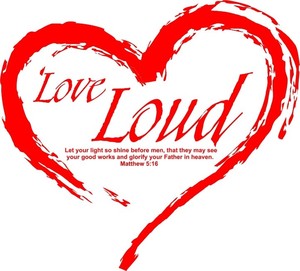 We are excited the churches of CRBA will be participating in LoveLOUD again this year. LoveLOUD will take place August 19-23 when our CRBA churches will provide lunch for all of our public schools (school employees) in Burke County. Chick-fil-A will be preparing the meal ($5.34 per person) and churches will be delivering the food to their adopted school on a specific day (and time) during the week of August 19. If your church would like to sponsor one of our Burke County Public Schools the week of August 19th please call our CRBA office with the name of the school you wish to adopt. If your church would like to adopt a school but is unable to financially make that happen, please let us know as we have "some" money set aside to help our churches with this event when necessary. Let's pull together and LoveLOUD the week of August 19th. (Please note, due to the complexity of this endeavor, participating churches will be asked to use Chick-fil-A and also stick to the date and time.) Schools yet to be adopted are:
| | |
| --- | --- |
| Name | # of Staff |
| George Hildebrand | 45 |
| Hildebran | 60 |
| Walter Johnson Middle | 55 |
| East Burke | 85 |
---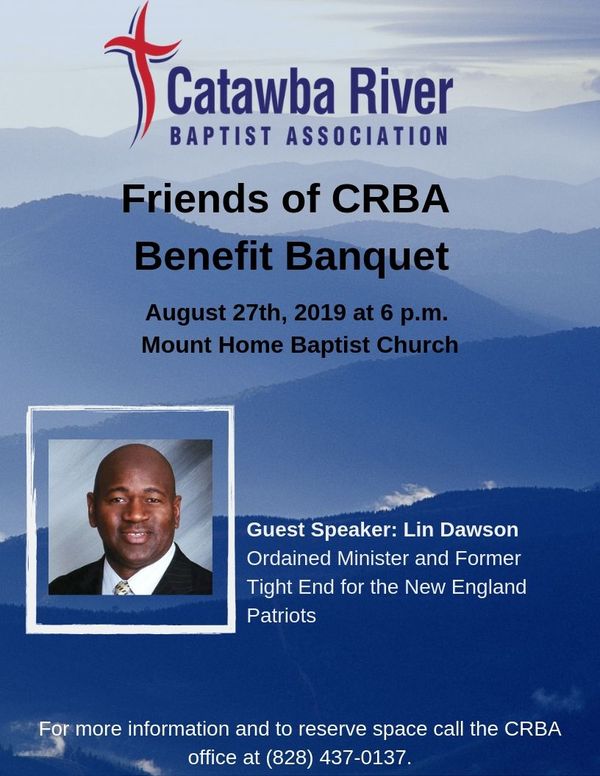 We are looking forward to having Lin Dawson (ordained minister and former NFL player) with us as our guest speaker for this year's Friends of CRBA Banquet on Tuesday, August 27th at 6 p.m. at Mount Home Baptist Church. This will be a night of great food, inspiration and an opportunity to raise funds for CRBA ministries to impact our county, nation and world. Tickets are free and there will be an opportunity to give financially to the work of CRBA during our time together. To make reservations (and to pick up tickets) please call our CRBA office at 828-437-0137.
---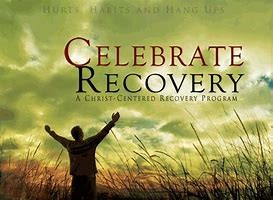 The churches of CRBA are concerned with the vast drug abuse present in Burke county and we want to help by beginning a Celebrate Recovery ministry and we need your help. If God has put this type of burden on your heart and you are willing to help us begin and volunteer in this ministry, please attend our potential leader information meeting on Monday evening,August 19th at 6 p.m. where a light supper will be served. If you plan to join us August 19thplease call us at 828-437-0137 to RSVP. You may also contact Robby at rsmith@crbanc.org. Your help and prayers are greatly appreciated.
---

We are excited about this year's Toy Store ministry as we will be celebrating 25 years of ministering to families using toys at Christmas to share the Good News of Jesus. This year we are celebrating Christmas in August, encouraging churches to collect toys in August to be distributed to families during Toy Store in December. If you would like a collection box to be delivered to your church (or business) please give us a call at 828-437-0137. Collection boxes with the Toy Store Logo are also available for pickup at our CRBA office in Morganton.
---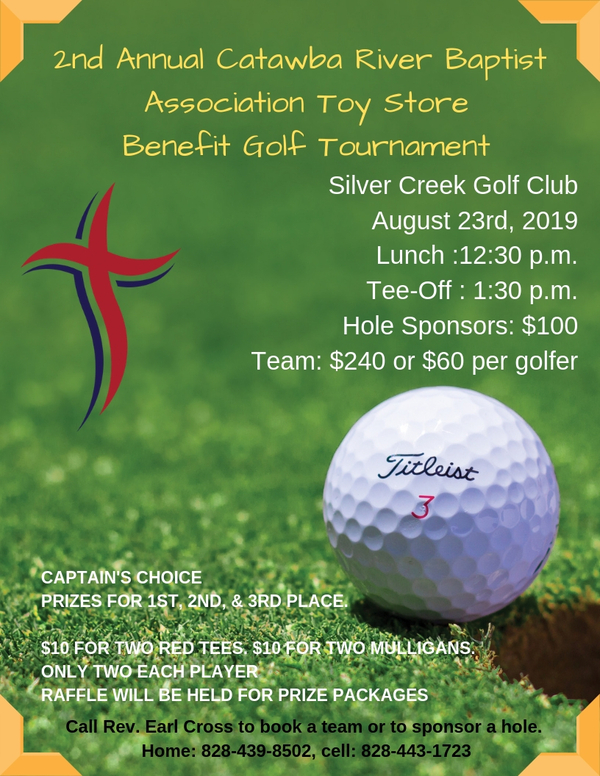 ---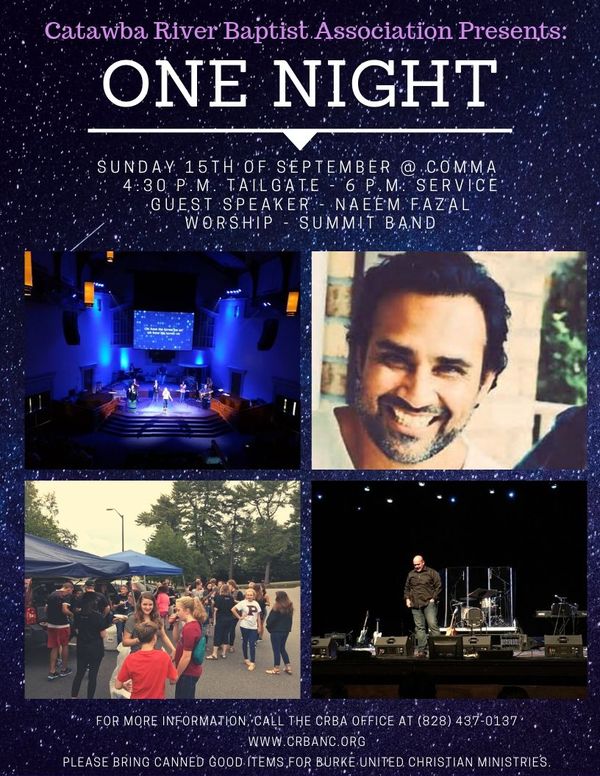 ---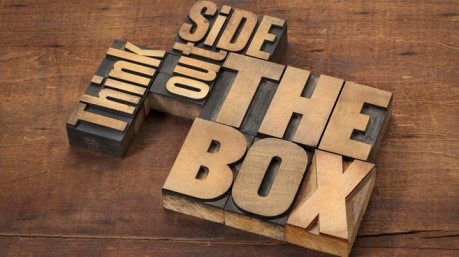 Creative Outreach Ideas to help churches reach communities for ChristHost A Rodeo –Host a bike rodeo to equip young riders with the best lessons for sharpening their bike safety as well as to reach out to the community. Here's how:
Hold the event at the church parking lot or playground.
Create a "street" with chalk or spray paint lines (if on grass) that kids can ride around and mini traffic signs to teach the rules of the road-stopping, swerving, braking and more.
Help kids master balance in a snail race to be the last to cross the finish line.
Test bike control by having riders weave around cones set in a slalom pattern.
Emphasize the importance of helmets with a helmet fitting station.
Teach hand signals and enforce traffic laws.
Get kids interested in bike maintenance with an "inspection station" where bike mechanics check seat height, brakes, tire pressure, chains and more.
Reward participants' hard work by handing out certificates.
Have prayer and a short devotion and hand out gospel tracts (designed for children) and New Testaments. If you contact your local Gideon chapter they me be able to help you with New Testaments.
---
Ministry Partner News
---

Vacation Bible School List 2019
Antioch
August 14 – 18 (Wednesday – Sunday)
6:30 p.m. – 8:30 p.m.
"In The Wild"
Summit
Aug. 12 – 15 (Monday – Thursday)
5:30 p.m. – 8 p.m.
If your church would like to be added to this list, contact the CRBA office at (828) 437-0137.
Also, after your VBS is over if you wish to share your decorations with other churches you can drop them off at our office.
---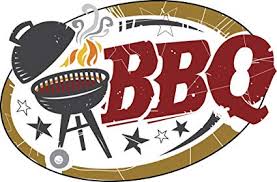 CCRP BBQ Fundraiser
Friday, August 9, 2019
11 a.m. – Until
CCRP House – 1201 S Sterling St. Morganton
$9 per plate Choice of Pulled BBQ or BBQ Chicken
plus slaw, baked beans, roll and dessert
Deliveries start at 10:30 a.m., Please contact CCRP at 828-433-6332 for more information.

---
Amherst Baptist Church is in search of a Part-Time Youth Pastor.
Send resumes to:
Amherst Baptist Church
P.O. Box 276
Drexel, NC 28619
---
Antioch Baptist is seeking a bi-vocational Pastor.
---
Bethel Baptist is seeking a bi-vocational Pastor.
---
Bethlehem Baptist is seeking a bi-vocational Pastor.
---
Bridge 42 is an elder-led, congregationally affirmed body of Christian believers in Morganton, NC, who desires to see the Gospel of Jesus Christ lived out incarnationally in our area through practices of intentional community, active outreach, a missional understanding of vocation, family, and community life, and an emphasis on personal and corporate discipleship, both within our body and among our neighbors (www.bridge42.org). They are looking for a bivocational pastor who aligns with their values and sense of mission, who will lead their elders and church body towards growth as a faithful expression of Christ's kingdom in Burke County. At a minimum, candidates are required to have a 4 year undergraduate degree in a related ministerial field with at least 5 years of experience. Candidates may submit resumes to:Bridgesearchteam@gmail.com

---
Burkemont Baptist is hosting a trip to Israel November 17-28, 2020 and they have room for you. If you have always wanted to go to the "Holy Land" but have never had the opportunity you will want to check this out. For more information, please call Susan Jones at 828-443-1316 or scjones129@bellsouth.net.

---
Cornerstone Baptist Church is seeking a full-time pastor, please send resumes to cbcsearch1@gmail.com

---
Drexel First Baptist Church is currently seeking a Part-timeYouth Ministry Leader.
Send resumes to:
Drexel First Baptist Church
Attn: Bert Eastwood
P O Box 308
Drexel, NC 28619
or email to: drexelfbc@gmail.com
---
El Bethel is seeking a full-time Associate Pastor of Worship and Youth. If interested please send your resume' to worshipleadersearchebbc@gmail.com
---
Hudson First Baptist is seeking a full-time Director of Children's and Family Ministry. Ordination is not required and the position is open to male and female applicants. For a complete job description, candidate profile, and to apply visit: www.hudsonfirst.org/jobs
Items Required: Cover Letter, Current Resume, Application, 3 References. Application deadline: August 5, 2019. Questions may be directed to jobs@hudsonfirst.org.
---
Missionary Ridge Baptist is seeking a full-time Senior Pastor. Please send resumes to bmason04@icloud.com.

---
Mount Calvary Baptist Church is currently seeking a part-time Youth Pastor. If interested contact Pastor Stephen Collins @ http://pastor.mtcalvaryvaldese@gmail.com.

---
Mull's Grove Baptist Church is currently seeking a full-time Senior Pastor. Please send resumes to mgbcpastorsearch19@gmail.com.

---
Pleasant Ridge Baptist is seeking a full-time Senior Pastor. If interested, please send your resume' to bucmdirector@gmail.com

---
Riverside Baptist is seeking a bi-vocational Pastor. Please send your resume' to P.O. Box 3451, Morganton, NC., 28680
---
Smyrna Baptist is seeking a bi-vocational Pastor.
---
Walker Road Baptist is seeking a full-time Pastor. Please send your resume' to gregory.branch@gmail.com