This year we will be celebrating 26 years of ministering to families in need through our Toy Store Ministry . There will most likely be some procedural changes this year due to COVID-19, but we are excited to continue sharing he Good News of Jesus Christ. During Christmas in August we are encouraging churches and individuals to collect toys to be distributed to families during annual Toy Store event in December. If you would like a collection box to be delivered to your church (or business) please give us a call at 828-437-0137. Collection boxes with the Toy Store Logo are also available for pickup at our CRBA office in Morganton. Feel free to bring monetary donations or toy donations ($12-$15 new toys) to our CRBA office. For ideas go to https://www.crbanc.org/crba-needs/
---

We are excited to share that GriefShare Ministry is returning. This vital ministry took a short break due to COVID-19 but will resume meeting beginning Tuesday, September 1, 2020 from 2pm – 3:30pm and will meet on Tuesdays for 13 weeks. We will only be accepting a small group of participants this time due to COVID restrictions so please reserve your spot by calling our CRBA office at 828-437-0137 (or email at admin@crbanc.org). Social distancing guidelines will be practiced. Check out our GriefShare introduction video on Youtube. Thank you pastor Doug Goforth for agreeing to lead this important ministry.
---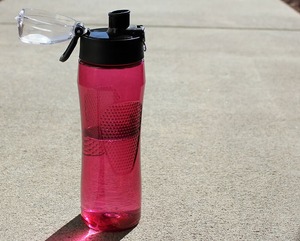 Our CRBA Women's Leadership Team is organizing a ministry opportunity for women's ministry groups in our CRBA churches. They will be distributing sports bottles filled with supplies to those in our community who are homeless. Please begin to collect the following items and bring them to our CRBA office and when the ordered large sports bottles arrive we will fill them and then distribute them to individuals in need. This is a great project for not only women's groups but youth and children's groups (and families) as well.
We are asking for the following items: individual packs of crackers, new adult socks, Slim Jims and travel sized wet wipes and tissues. Keep in mind these items must fit into sports bottle. We will also accept monetary donations, if you would like to contribute and are not able to shop.
---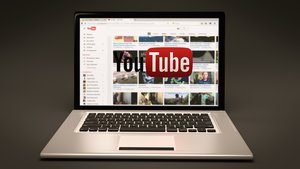 Check out Doug Goforth as Pastor of the Week on our YouTube channel (www.youtube.com/CRBANC). Don't forget to subscribe!
---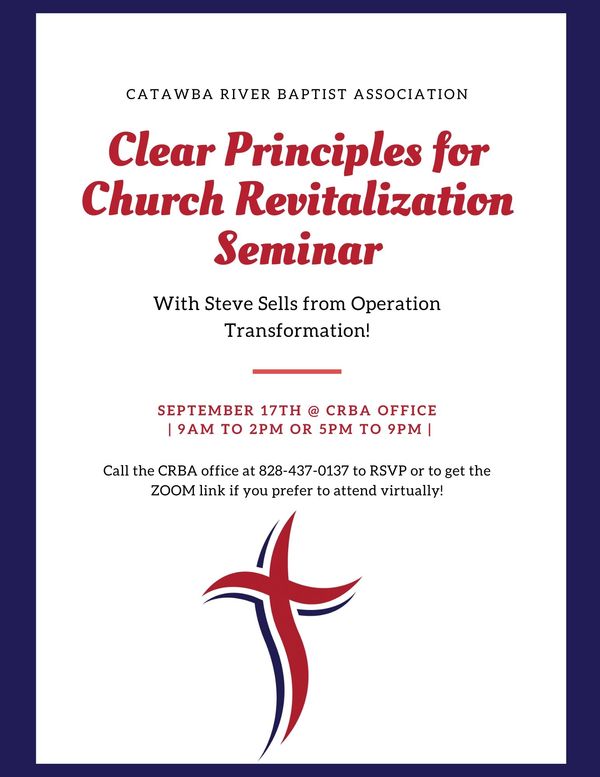 In this helpful seminar the following topics will be discussed:
Introduction: What is Church Revitalization? – Revitalization = Revival
Understanding the Church Life-Cycle Curve – Where is your church on the Cycle?
What does a Healthy Church look like? What does an Unhealthy Church look like?
Principles that will help bring Revitalization:
Understanding the Holy Spirits role in Church Revitalization.
Receiving a clear Vision for Church Revitalization.
A Willingness to change with Church Revitalization.
Developing Leadership for Church Revitalization.
Resolving Conflict for Church Revitalization.
Fighting the "Good Fight" (Warfare) for Church Revitalization.
We hope you will join us for this great seminar, but we must hear from you soon if you plan to participate. Please, RSVP as soon as possible by calling our CRBA office at 828-437-0137 or email us at admin@crbanc.org.
---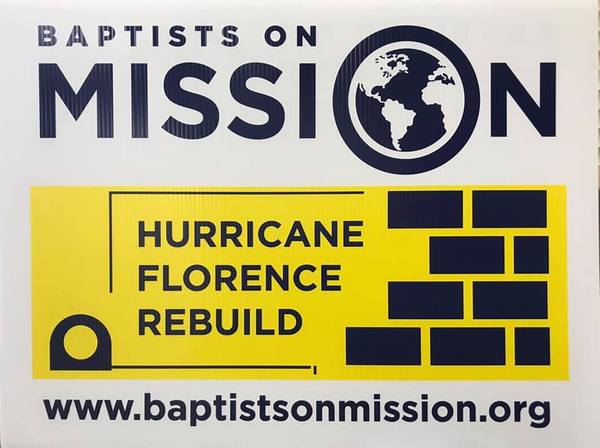 The Catawba River Baptist Association will be leading a Mission Trip to Rose Hill, NC September 1-4. We will be helping rebuild homes destroyed by the floods in eastern NC. Cost of the trip will be $10 per night, totaling $30. The site provides lodging, food, and all work materials. This is a great opportunity for anyone new to missions or seasoned veterans. If you would like to join our team or have any questions, please call the CRBA office at 828-437-0137. If you would like to see a video of the mission site click the link. https://youtu.be/sdEdXafrzuQ (Video by Daniel Purcell)
---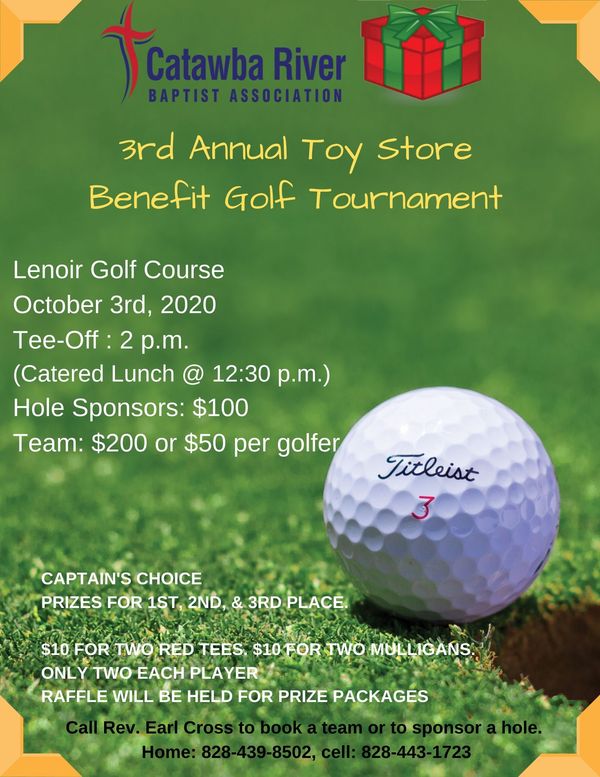 ---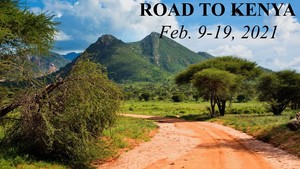 Has God been speaking to you about going on a foreign mission trip? Well, if so, we've got a great opportunity for you. The plane will leave from Charlotte for Kenya February 9th of 2021 and I hope you will be on it. Our team will be limited to 14 people, and we already have 4 who have committed to go. With that being said, pray, commit and send in your registration form (call our CRBA office for the form).The cost of the trip is approximately $2,600.
---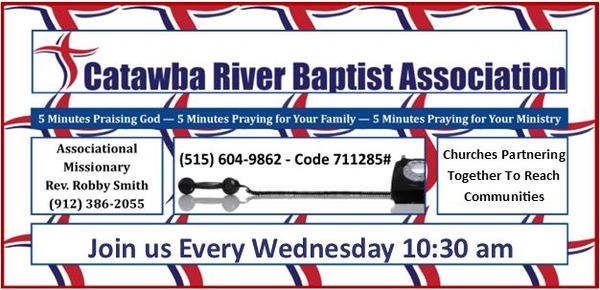 Each Wednesday at 10:30 we spend time praying for the needs of our churches, and communities in Burke County. I invite each of you to join me as we pray for our churches in Burke County to have greater impact in the Kingdom. If you would like to join me in this special time of weekly prayer please follow the instructions on the above picture. I promise you will be blessed.
---
Partner News



Burke Hospice & Palliative Care is proud to offer a volunteer program for your church which integrates the terminally ill with the faith community.
The Ambassador Program mobilizes a semi-formal person-to-person network between hospice and local worship centers. Burke Hospice Ambassadors help raise awareness and understanding of what hospice and & palliative care really is.
Ambassadors serve as teachers and educate their congregants about the benefits of hospice, while relieving fears associated with services for those facing life-limiting illness.
Ambassadors receive specific training to build their understanding and awareness of hospice. They go into their congregations with confidence and help others realize how Burke Hospice & Palliative care can bring hope to their days.
Requirements:
Ambassadors must be 18 years or older.
Ambassador must regularly attend and be involved in a local religious group or organization.
Ambassadors must attend regularly scheduled Ambassador meetings (three times a year).
Ambassadors must be dedicated to help those facing terminal illness learn about and obtain the services of Burke Hospice & Palliative Care.
Ambassador must complete a required 1-day training program.
If you don't have one, please consider teaming with us for an Ambassador for your church. Call Twyla Hildebrand for more information at 879-1601 Ext 157.
Also, during the current pandemic, Burke Hospice & Palliative Care needs additional masks to provide staff. Please help stock our food pantry with non-perishable items for our food insecure patients. Thank you so much.
---
Beech Glen Baptist Church in Mars Hill, N.C. is seeking a full-time pastor. Seminary and/or bachelor's degree preferred. Salary range begins at $52K per year based on education and experience. Please send resume to "Search Committee, PO Box 715, Mars Hill, NC, 28754" and/or via email to bgbcpsc@charter.net. Applications should include a link to an online sermon or some form of digital media (e.g. CD, DVD, etc…) sent to the PO Box above. Application implies consent to a nationwide background investigation.
Mt. Zion Baptist of Hudson, NC is searching for an interim part-time Music Director. The position involves to following:
Directs the music ministry of the Church.
Assists the Pastor in planning all worship services.
Arranges and provides music for funerals, special services and other Church-related activities upon request.
Model Biblical integrity in all things.
Available 12 to 14 hours per week including partial office hours.
Interested individuals – please e-mail resume to: Sherry White at sherry@mountzionhudson.org
You may also mail your resume to: Mount Zion Baptist Church, 1787 Cajah Mtn. Road, Hudson, NC 28638, Attn: Search Committee
Church News

Antioch Baptist is seeking a bi-vocational Pastor.

Mull's Grove Baptist Church is currently seeking a Full-time Senior Pastor. Please send resumes to mgbcpastorsearch19@gmail.com.

Pleasant Ridge Baptist has some puppets and a puppet stage they are wanting to make available to any church who could use them. Also, they have a large Easter Backdrop available. If interested in either please call Keith Burkhart at (828) 584-0310.