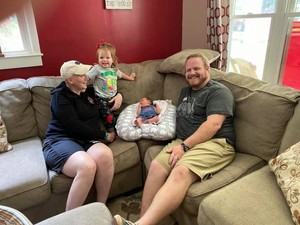 Congratulations to Sarah and Ethan Cromer of South Mountain Baptist Camp on the birth of their daughter Dottie Mae who arrived June 29 at 4:46 a.m. She weighed 8lbs 6oz and was 20 inches long. She and mom are both doing great. They made it home safely Wednesday morning when Ruth found out that she is a big sister. She has already accepted and loves that role. God's blessings upon this wonderful family.
---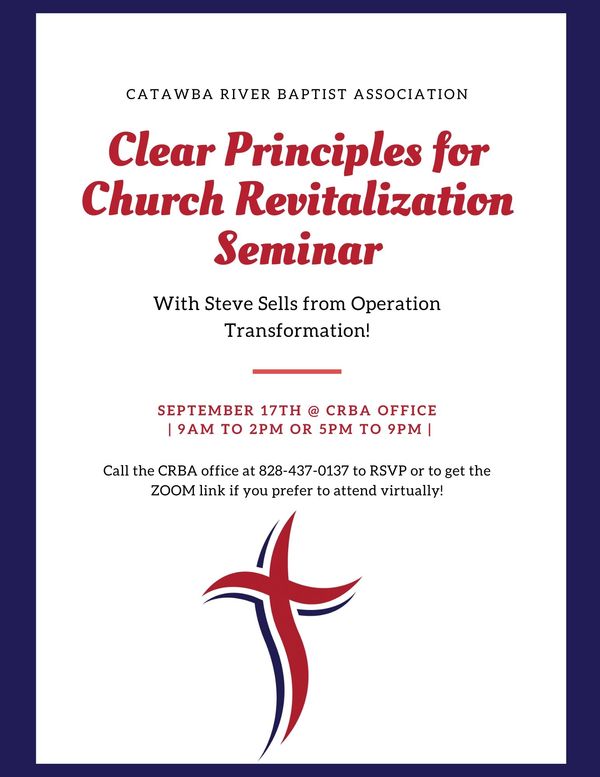 In this helpful seminar the following topics will be discussed:
Introduction: What is Church Revitalization? – Revitalization = Revival
Understanding the Church Life-Cycle Curve – Where is your church on the Cycle?
What does a Healthy Church look like? What does an Unhealthy Church look like?
Principles that will help bring Revitalization:
Understanding the Holy Spirits role in Church Revitalization.
Receiving a clear Vision for Church Revitalization.
A Willingness to change with Church Revitalization.
Developing Leadership for Church Revitalization.
Resolving Conflict for Church Revitalization.
Fighting the "Good Fight" (Warfare) for Church Revitalization.
---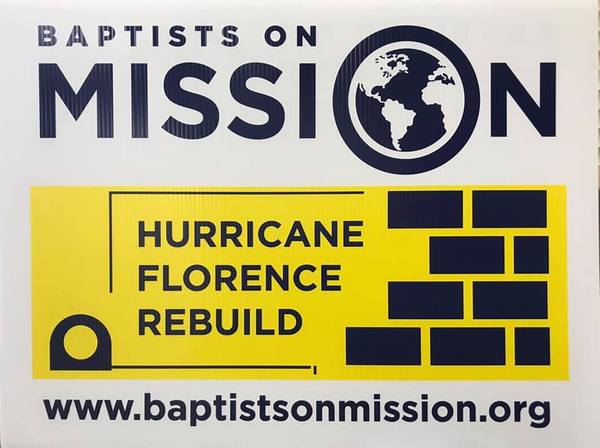 The Catawba River Baptist Association will be leading a Mission Trip to Rose Hill, NC September 1-4. We will be helping rebuild homes destroyed by the floods in eastern NC. Cost of the trip will be $10 per night, totaling $30. The site provides lodging, food, and all work materials. This is a great opportunity for anyone new to missions or seasoned veterans. If you would like to join our team or have any questions, please call the CRBA office at 828-437-0137. If you would like to see a video of the mission site click the link. https://youtu.be/sdEdXafrzuQ (Video by Daniel Purcell)
---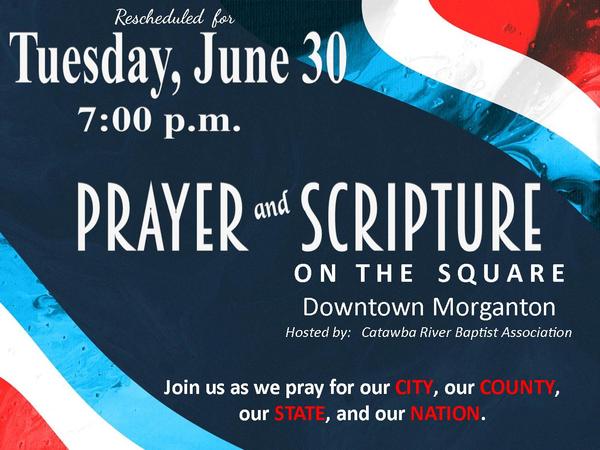 Thank you to all who tuned in Tuesday evening for our Scripture and Prayer Gathering. While we wish we were able to host it on the Morganton Square (due to thunderstorms we went to plan B) we are happy 1,000 plus people have viewed it online. Thanks again for your support as we pray for peace and unity in our communities. If you missed the stream you can watch it on our Facebook page or Youtube.
---
How to Adapt to Online Sunday School
5 tips to help you get the most out of online Sunday school. by Ken Brady of Lifeway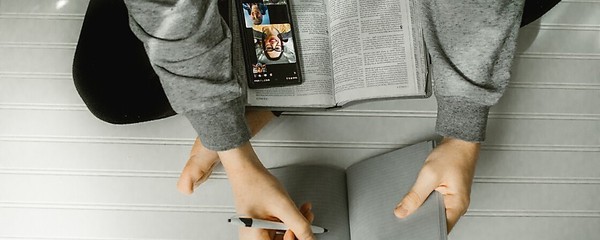 Group leaders who have moved their Sunday school classes online have quickly discovered that it is not the same as teaching a group in person. Within weeks, Sunday school teachers have rediscovered the adage that you cannot place new wine in old wineskins. New rules exist, and for most groups the experience of an online Sunday school is also brand new. Successful group leaders are going to do things in new ways as they guide their groups to study the Bible in a virtual setting. As Sunday school groups have been dispersed online, successful leaders have already begun discovering a new set of rules that govern online groups.
1. Bible study sessions must be shorter.
If a teacher's only experience has been in a traditional classroom or living room setting, they will discover a much different environment online. It may seem counter-intuitive, but groups move online, less is more. Teachers must cut their normal group session plans in half. The new rule for online Sunday school is to create a 20-minute Bible study experience. People will check out, click out, and teachers will be left wondering why people bailed out. Attention spans will be lower because of distractions in home settings (how many of us deal with barking dogs and children who are going "COVID crazy," bursting into rooms when mom and dad are working online? Teachers cannot engage people like they once could in a face-to-face setting. 30-minute television shows have 22 minutes of show, and eight minutes of commercials. There's a reason that producers aim for about 20 minutes of attention span.
2. Teachers must "share screen" and introduce images that enhance the study.
While people will enjoy seeing each other's faces, they will enjoy seeing interesting images, maps, charts, and other items that can be shared through a group's online meeting tool. Group leaders should take full advantage of the "share" feature in online meeting tools.
Sunday school teachers have rediscovered the adage that you cannot place new wine in old wineskins. Successful group leaders are going to do things in new ways as they guide their groups to study the Bible in a virtual setting.
3. Teachers must work hard to keep people engaged.
In an online environment, teachers should talk less. A savvy online teacher will ask specific group members to read sections of Scripture. An old trick is to assign a verse to each person in numerical order and ask the group to read the passage of Scripture aloud (everyone must pay close attention for when it's their time to read). Teachers must learn not to throw out blanket questions but should develop the skill for asking specific people to respond to specific questions (this also helps keep members' attention, not knowing who the recipient of a question will be). Even though people's attention may wander, teachers can redirect them and pull wandering minds back into the online Bible study.
4. The use of Personal Study Guides is more important than ever before.
Because of social separation, it is vitally important for every group member to have a Personal Study Guide in hand. These study guides make sure that every group member has a discipleship tool built on a wise scope and sequence of topics that help them grow spiritually. If group members miss an online session, they can keep up with the group's study plan (because discipleship doesn't take a week off). Online Sunday school teachers can wisely call attention to items in the Personal Study Guide such as quotes, questions, and images to help keep people engaged and interested in the Bible study. Personal Study Guides also create synergy at a time when we are separated physically, giving the real impression that "we're in this together" even though we are apart. This is the most practical tool that a church could possibly place in the hands of its members for online Sunday school.
5. Churches are wise to provide an ongoing online Bible study experience.
When the church returns to its buildings, some churches will be tempted to abandon online Bible study groups. Viewed by some as a stopgap measure during COVID-19, others will see it as a new way to reach people. Churches would be wise to encourage some groups to not meet together on campus and to have an ongoing study online. Sunday school groups were once the front door of the church. Back in the 50s and 60s, it was normal for families to visit a Bible study group first, then attend a worship service. Over time, worship became the front door of the church, but online groups may reverse this. It has been reported in many places that online groups have grown during COVID-19, attracting new people who have never been in a group before. Churches should consider the benefits of having one or two permanent groups online weekly. These groups can serve as a front door ministry by reaching people who find the church online and are not ready to attend the worship service or an on-campus group.
---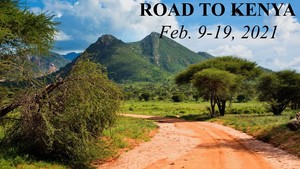 Has God been speaking to you about going on a foreign mission trip? Well, if so, we've got a great opportunity for you. The plane will leave from Charlotte for Kenya February 9th of 2021 and I hope you will be on it. Our team will be limited to 14 people and we already have 4 who have committed to go. With that being said, pray, commit and send in your registration form (call our CRBA office for the form) with a deposit of $300 before July 16th of this year. The cost of the trip is approximately $2,600.
---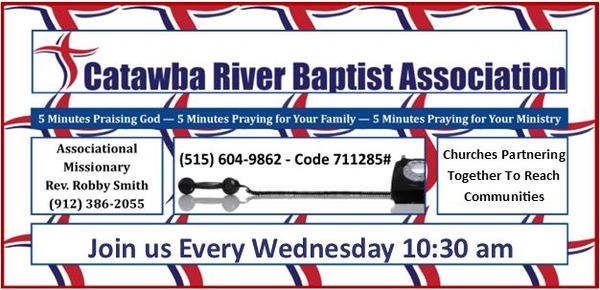 ---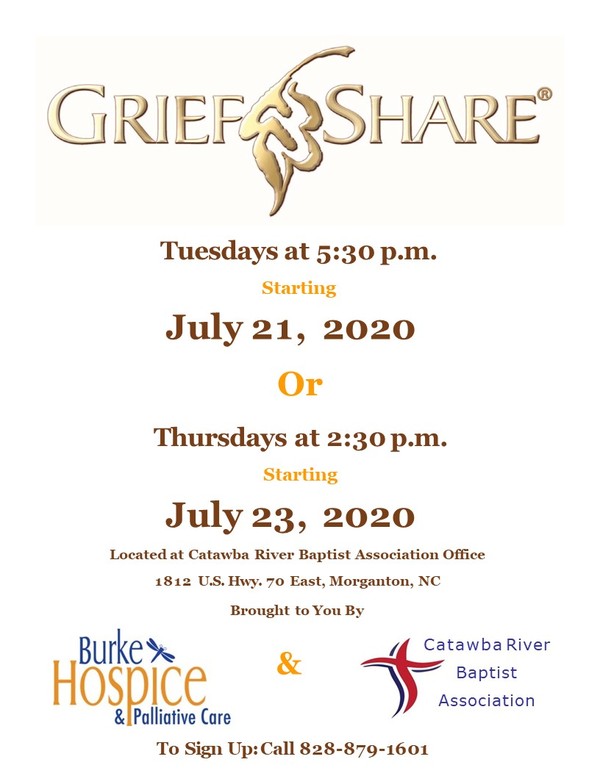 ---
Church News

Antioch Baptist is seeking a bi-vocational Pastor.

Mull's Grove Baptist Church is currently seeking a Full-time Senior Pastor. Please send resumes to mgbcpastorsearch19@gmail.com.

Pleasant Ridge Baptist has some puppets and a puppet stage they are wanting to make available to any church who could use them. Also, they have a large Easter Backdrop available. If interested in either please call Keith Burkhart at (828) 584-0310.