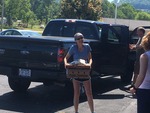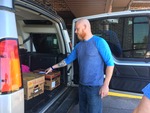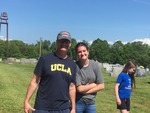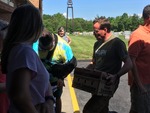 CRBA Churches Ministering to our Community
I am praising the Lord for our churches who helped deliver food and supplies to 75+ families this past Saturday. Thank you Eddy Bunton for organizing the "food deployment" and thank you CRBA churches for making a difference in our community for the sake of the Gospel. To God Be the Glory!!!
---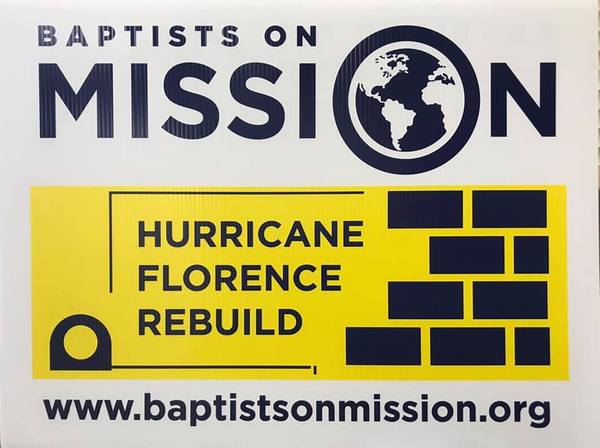 The Catawba River Baptist Association will be leading a Mission Trip to Rose Hill, NC September 1-4. We will be helping rebuild homes destroyed by the floods in eastern NC. Cost of the trip will be $10 per night, totaling $30. The site provides lodging, food, and all work materials. This is a great opportunity for anyone new to missions or seasoned veterans. If you would like to join our team or have any questions, please call the CRBA office at 828-437-0137. If you would like to see a video of the mission site click the link. https://youtu.be/sdEdXafrzuQ (Video by Daniel Purcell)
---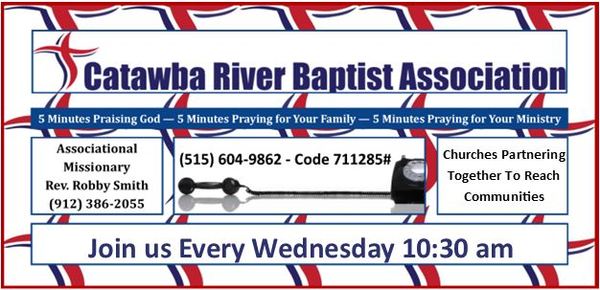 Every Wednesday at 10:30 a.m. we host a Prayer Conference Call for our community to take the time to pray with others. Join us each Wednesday by following the instructions on the above picture. We would love for you to join us next week. You can pray with us or remain silent if you prefer. Whatever you choose to do you will be blessed. The call will not last longer than 15 minutes.
---
Creative idea to spread the Good News of Jesus!
This is a picture of one of the ministry treat bags Burkemont is giving out. They have been giving these treat bags to children in our local daycares. Now they are sending these bags home with essential workers at our local hospital to say "Thank You" to the children who have shared their parents, grandparents, aunts and uncles so we could all have the care we need. I share this not only to brag on Jesus but to provide you with another ministry idea as you and your church can make a difference during COVID-19. Consider finding a local daycare or hospital, nursing home or assisted living facility. Call their director and tell them what you would like to do. Eddy Bunton tells me no one has told him no yet so why not try it? If you lack the financial resources to do something like this there is potential funding available for local projects like this so, call Robby at our CRBA office to discuss options and opportunities. Thank you Eddy Bunton and Burkemont for this creative ministry idea.





---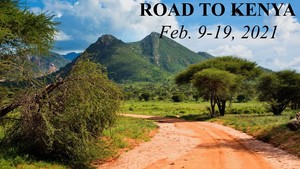 Has God been speaking to you about going on a foreign mission trip? Well, if so, we've got a great opportunity for you. The plane will leave from Charlotte for Kenya February 9th of 2021 and I hope you will be on it. Our team will be limited to 14 people and we already have 3 who have committed to go. With that being said, pray, commit and send in your registration form (call our CRBA office for the form) with a deposit of $300 before July 16th of this year. The cost of the trip is approximately $2,600.
---
9 Things I'd Like to See Continue in Churches in the "New Normal"
By Dr. Chuck Lawless (first published at chucklawless.com)
Only God knows what the "new normal" is going to look like in churches when we regather over the next several months. Nevertheless, here are some things I hope will continue:
Online meetings. We'll still need to meet in person at times, but we can accomplish a lot of meetings without requiring people to leave their homes. This approach will likely help laity who work at least eight hours and then must drive to the church for a meeting.
Focused services. We're learning how to do a service well without distractions and added components that may not be necessary for strong, God-centered worship. Our in-person services can thus be stronger, too.
Online small group meetings. I'm not arguing that every small group should remain online, but it won't hurt us to meet occasionally via this means. For example, scheduling a time of prayer when a small group member is hurting is often easier to do online.
Local church cooperation. Our church is currently without a worship pastor, but a brother from a sister church has stepped in to record the worship set for us. All of us need to think about how we can assist sister congregations in the future.
Student involvement. In many cases, churches have figured out the digital world because a high school or college student came to their rescue. Our churches will be stronger if we learn to involve this generation more often.
Visionary leadership. By this phrase, I mean leadership who can wisely consider the future and help prepare our churches to move in the right direction. What we were forced to do in a few days—consider how we were going to do church in the present and near future—should be something we do on an ongoing basis.
Family time. Many folks I know have spent more time with their families over the past few months than they had in a long time—and their children have loved having them around. I don't want our churches to get so busy again that we unintentionally pull families in multiple directions.
Congregational care. Perhaps your church is like many others who have intentionally reached out to all their members to check on them during this crisis. Somehow, we need to keep up this pattern in the days to come.
Creative thinking. This crisis has pushed us to think quickly about how to respond to the issues—and many of the ideas have been unique, innovative, and effective. Perhaps the "new normal" will include church leaders who think more purposefully and creatively.
---
Church News

Antioch Baptist is seeking a bi-vocational Pastor.
Drexel First Baptist Church is currently seeking a Part-timeYouth Ministry Leader.
Send resumes to:
Drexel First Baptist Church
Attn: Bert Eastwood
P O Box 308
Drexel, NC 28619
or email to: drexelfbc@gmail.com

Mull's Grove Baptist Church is currently seeking a Full-time Senior Pastor. Please send resumes to mgbcpastorsearch19@gmail.com.