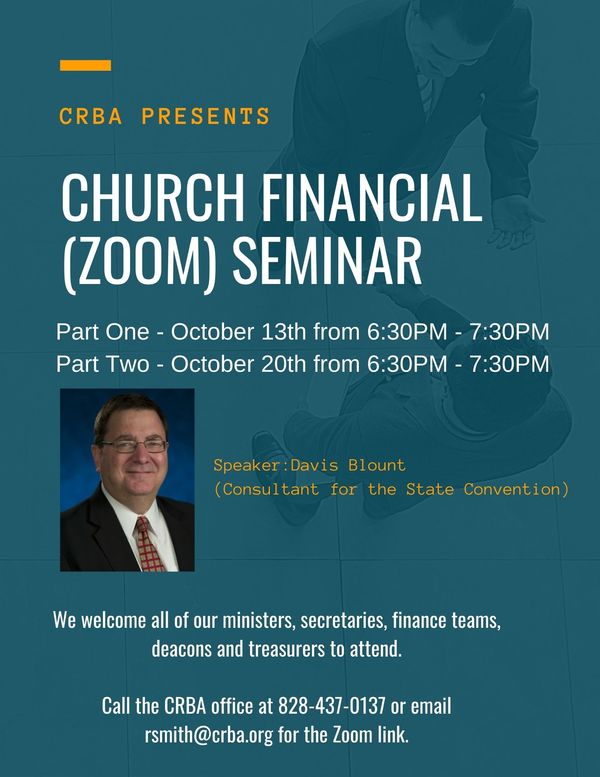 ---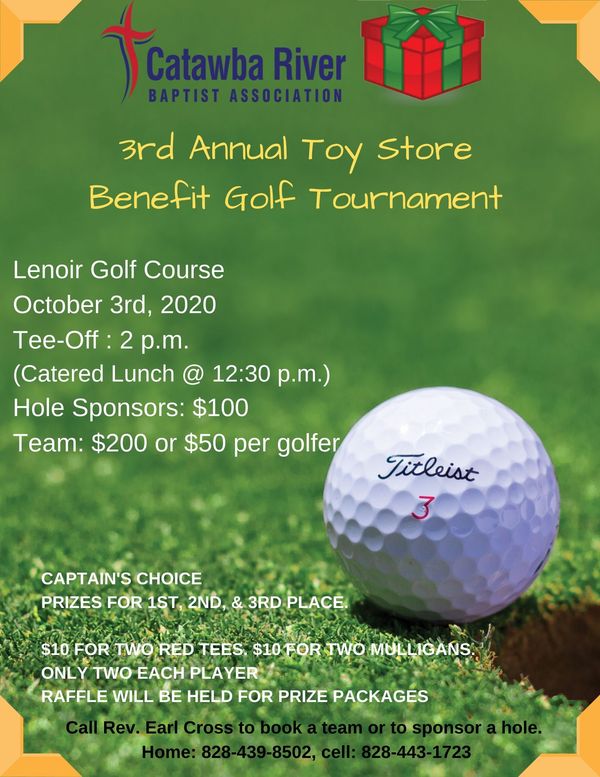 Our Annual CRBA Toy Store Golf Tournament is this weekend and we hope to have a team play from your church. We would love to have a team from your church so, please contact our CRBA office today with the names of those playing from your church.
---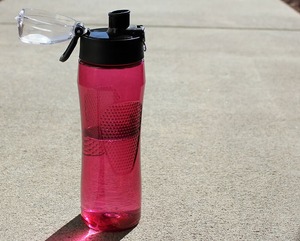 Our CRBA Women's Leadership Team is organizing a ministry opportunity for women's ministry groups in our CRBA churches. They will be distributing sports bottles filled with supplies to those in our community who are homeless. This is a great project for not only women's groups but youth and children's groups (and families) as well.
We are asking for the following items: individual packs of crackers, new adult socks, Slim Jims and travel sized wet wipes and tissues. Keep in mind these items must fit into a sports bottle. We will also accept monetary donations, if you would like to contribute and are not able to shop. Please turn in your collected supplies by October 5th.
---

CRBA TOY STORE CHANGES
It's that time again as we prepare for the wonderful season of Christmas. This year will be especially meaningful as we have so much to be thankful for. This time of COVID-19 and social unrest has been difficult. However, we have seen God move in wonderful ways as we have sought to make Christ known in our community. This year we will again be offering our Toy Store ministry but due to COVID-19 things will be a little different.
Registration will take place at our CRBA office (1812 US 70 E., Morganton) this year on Monday, October 19th (noon to 8 p.m.) and Tuesday, October 20th (8 a.m. to 5 p.m.).

Guests can download or print the registration form in English or Spanish by going to www.crbanc.org/toystore. Applications can be emailed to us @ toystore@crbanc.org with a copy of your ID and that of your children by Wednesday, October 14th, or, brought to our CRBA office on one of the above registration days. If you register in person please remember to wear a mask and observe social distancing guidelines.

Toys will be distributed December 7-8 from our Associational Office (1812 US 70 E.) instead of Summit Church this year.

Toys will be chosen for each child by our volunteers and then those toys and stockings will be placed in a large bag and put into parents' vehicles by our caring volunteers.
Each participating household will be given an opportunity to be entered into a drawing for 1 of 10 grocery store gift cards.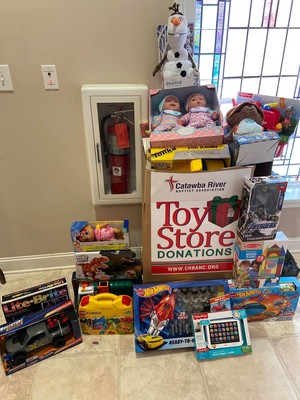 TOY STORE NEEDS
We are still collecting new toys in the $15 range to distribute at Toy Store.

Monetary donations are also accepted, if you do not feel like going shopping. The Toy Store Team will do the shopping for you before the Toy Store date.

Stockings are also needed. We need around 400 regular size stockings. There is a stocking pattern and a little material at the CRBA office if you are willing to sew them.
---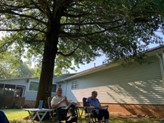 3 Ways Sunday School is going back to its New Testament Roots
By Ken Braddy at kenbraddy.com
It's hard to believe, but some Bible study groups haven't met since the beginning of the pandemic. Groups with older members may have chosen not to meet for safety reasons. Other groups haven't met online through a tool like Zoom simply because they believed the technology was beyond them (those senior saints may not have had computers, smartphones, or tablets). But even during a pandemic, there are 3 ways Sunday School is going back to its New Testament roots. Groups are meeting again. Here's what's taking place.
Groups are meeting outside. The photo above was taken yesterday morning at 8:30AM. My wife and I dropped in on one of our church's adult groups that is meeting in the backyard of a home that belongs to one of the group's members. "Sunday School under the trees" was a great experience! Not only were there 8 people present, two more joined via Zoom! In Acts 16 you'll find the story of Lydia, a dealer in purple cloth. She and others were outside at a river when they were found by Paul, who proceeded to interrupt their prayer meeting. The Bible records, "On the Sabbath day we went outside the city gate by the river, where we expected to find a place of prayer. We sat down and spoke to the women gathered there. A God-fearing woman named Lydia, a dealer in purple cloth from the city of Thyatira, was listening. The Lord opened her heart to respond to what Paul was saying" (Acts 16:15ff, CSB). Today groups are meeting in backyards, parks, driveways, beaches, and any other place they can practice physical distancing while still coming together for fellowship, prayer, and Bible study. This is just one way Sunday School is going back to its New Testament roots.
Groups are meeting in homes. Not only are groups meeting outside, some have regathered inside the home of a group member. These groups have continued to meet, just like the group I've mentioned above, but they've chosen to meet inside. I am reminded of the brief glance we have into the way first-century Christians met when we read their story in Acts 2:46. "Every day they devoted themselves to meeting together in the temple, and broke bread from house to house" (CSB). These early Christians did not have churches like you and I do today, so they met outside in the temple courts, heard God's Word preached, then moved to homes in smaller groups to have fellowship and to continue discussing the gospel message they'd heard. Today, we're getting back to these roots as Christians are gathering in homes for fellowship and study. When their churches reopen groups on campus, they may shift their location there. Or maybe not! There is something wonderful and intimate about meeting in a home, sharing food and fellowship, praying for one another, and discovering the truths found in God's Word. This is yet another way that groups are going back to their New Testament roots.
Groups are meeting. Like I said above, some groups have not met much, or at all, since the start of the pandemic. But things are changing now that we are six months into this global phenomenon. Groups are no longer willing not to meet, and they are finding ways to gather together safely. During times of persecution by the Romans or others, the church didn't stop meeting. She met. She met in homes, she met outside, but she met. We're seeing this again today! I like the way the King James Version presents Hebrews 10:25 – "Not forsaking the assembling of ourselves together, as the manner of some is; but exhorting one another: and so much the more, as ye see the day approaching." Groups are practicing this by finding ways to meet so they no longer forsake their gathering together. I am proud of the creativity and the tenacity I see in groups and group leaders who pivot and press on, finding a place and time to gather as groups.
Has your group found its New Testament roots? I hope you are meeting somewhere, somehow, and doing it safely and in accordance with your state's guidelines! If not, have a conversation with your group leader or your pastor about how your group could begin to come together once again
---
Church News
Amherst Baptist is seeking a Pastor.
Antioch Baptist is seeking a bi-vocational Pastor.
Community Missionary is seeking a Pastor.
East Valdese Baptist Church is seeking a full-time Senior Pastor.
El Bethel Baptist Church in Morganton is seeking a full-time Associate Pastor of Worship and Youth to join their ministerial staff. Please send resumes and questions to worshipleadersearchebbc@gmail.com.
Pleasant Hill Baptist is seeking a full-time Children's and Youth Ministry Pastor as well as a part-time Worship Pastor/Leader.
Rutherford College First Baptist is seeking a bi-vocational Pastor.
Walker Road Baptist is seeking a full-time Senior Pastor.
Wilkies Grove is seeking a full-time Senior Pastor.