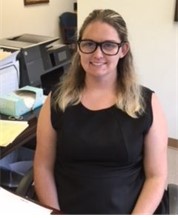 Emily Martin has served as our CRBA Ministry Assistant for the past 2 years and has done an excellent job. She has been a wonderful blessing as she tirelessly works to help our churches. However, she has taken a full-time position with a local company and her last day here will be Thursday, October 23.We are sad to see her go but happy for her. So…………………., we will have an opening for a part-time Ministry Assistant beginning October 26. If you know of someone whom you think would be a good fit for our Association, please have that person contact us for the job description. Interested persons should send their resume' to rsmith@crbanc.org. The job is 28 hours a week (Monday through Thursday) and pays $14.50 to $15.50 per hour (depending on experience) and includes paid vacation and annuity.
---
Catawba River Baptist Association
Annual Meeting
Online Fall Session

Sunday, October 18, 2020 @ 6 PM
Video available on Facebook and Youtube
Because of the difficulties involved in hosting big events these days due to COVID-19, our Annual Meeting will take place online this year. Please join us on Facebook and/or YOUTUBE. It will be informative and encouraging as we share through video the victories of 2020 and the opportunities for 2021. Following the release of the video at 6 p.m. this Sunday on Facebook, every CRBA pastor will be emailed a copy of this year's ministry report which not only share about victories and upcoming opportunities, it will also include the proposed 2021 budget. We will also make this available to our Church Messengers upon request. Messengers and Pastors are encouraged to give us a call with any questions or concerns.
---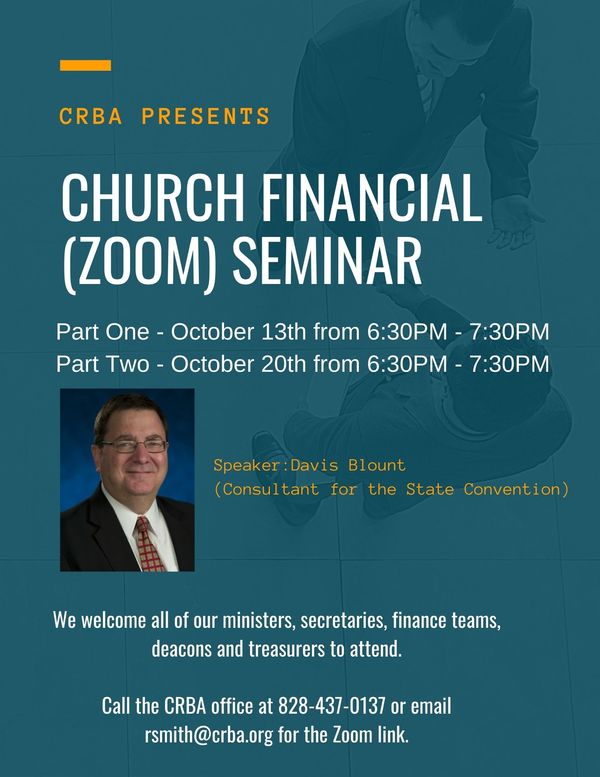 ---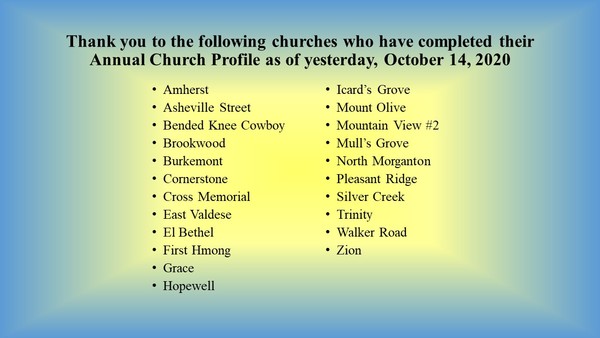 Completing the Annual Church Profile can help your church in the following ways:
● Records a historical testimony to the work that God is doing in and through your congregation
● Provides trends and illustrate changes in areas like membership, baptisms, small groups and giving
● Aids a pastor search committee in reviewing church information for prospective candidates from any congregation in the Southern Baptist Convention
● Plan for classroom growth and meeting space analysis
● Provides financial information over long periods of time which can help secure a building loan
● Determines the number of messengers to the BSCNC and SBC annual meetings based on membership and missions giving
Completing the Annual Church Report can help your Association, State Convention and Southern Baptist Convention:
● Plan for new church starts and missions
● Develop strategies to strengthen churches
● Prioritize areas in our county, state/nation for strategic evangelism efforts
● Identify church staff and lay leadership for possible training, leadership opportunities and conferences
---
CRBA TOY STORE CHANGES
It's that time again as we prepare for the wonderful season of Christmas. This year will be especially meaningful as we have so much to be thankful for. This time of COVID-19 and social unrest has been difficult. However, we have seen God move in wonderful ways as we have sought to make Christ known in our community. This year we will again be offering our Toy Store ministry but due to COVID-19 things will be a little different.
Registration will take place at our CRBA office (1812 US 70 E., Morganton) this year on Monday, October 19th (noon to 8 p.m.) and Tuesday, October 20th (8 a.m. to 5 p.m.)

Guests can download or print the registration form in English or Spanish by going to www.crbanc.org/toystore. Applications can be emailed to us @ toystore@crbanc.org with a copy of your ID and that of your children by Wednesday, October 14th, or, brought to our CRBA office on one of the above registration days. If you register in person please remember to wear a mask and observe social distancing guidelines.

Toys will be distributed December 7-8 from our Associational Office (1812 US 70 E.) instead of Summit Church this year.

Toys will be chosen for each child by our volunteers and then those toys and stockings will be placed in a large bag and put into parents' vehicles by our caring volunteers.
Each participating household will be given an opportunity to be entered into a drawing for 1 of 10 grocery store gift cards.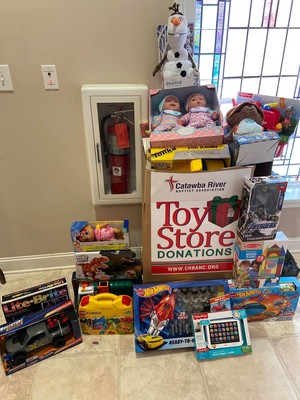 TOY STORE NEEDS
We are still collecting new toys in the $15 range to distribute at Toy Store.

Monetary donations are also accepted, if you do not feel like going shopping. The Toy Store Team will do the shopping for you before the Toy Store date.

Stockings are also needed. We need around 400 regular size stockings. There is a stocking pattern and a little material at the CRBA office if you are willing to sew them.
---
Thank you to the following churches who have given so far this year.
Abee's Grove
Amherst
Antioch
Asheville Street
Bended Knee Cowboy
Bethel
Brookwood
Burkemont
Catawba Valley
Connelly Springs First
Cornerstone
Cross Memorial
Drexel First
Drexel Memorial
East Valdese
El Bethel
Enon
Faith Missionary
Friendship
Gilead
Glen Alpine First
Grace
High Peak
HMong First
Hopewell
Icard's Grove
Lakeview
Missionary Ridge
Morganton First
Mount Calvary
Mount Home
Mount Olive
Mountain View II
Mull's Grove
North Morganton
Oak Grove
Oak Ridge
Pleasant Hill
Pleasant Ridge
Pleasant View
Rutherford College First
Silver Creek
Southside
Summit
Table Rock
Trinity
United
Valdese First
Walker Road
Wilkie's Grove
Zion
---
Minister Appreciation Month
As you know, October is Minister Appreciation Month. Listed below are some ideas you could use to show your appreciation for what you Pastors/Ministers do for you and our community.
Flood your pastor's mail box with letters of appreciation
Present him with a gift card to his favorite store or restaurant
Send flowers to his wife
Provide free child care so he and his wife can go on a date
Give him free movie tickets
Pay for him and his wife to go out of town for a couple of days (hotel and restaurants)
Give him a gift card for a new suit (only if he wears suits)
Do an office makeover
Present him with a nicely framed picture of the church
Give him an Amazon gift card to purchase books of his choosing
Supply Favorite Things -Think of one small thing your pastor enjoys, such as M&Ms, fishing lures, coffee, etc. Ask each member to bring that item on Sunday, i.e. one bag, any size, of M&Ms. Supply extras for guests or forgetful members.
Celebrate 30 Days of Pastor Appreciation -Use an October calendar to schedule volunteers for a month-long schedule of surprise treats. Each day of the month, the pastor will receive a surprise token of appreciation from a church member, committee or group within the church. The tributes can vary widely. Some ideas include: a balloon delivery, an apple pie or a gift certificate. Don't forget to include a sincere note with specific reasons you appreciate the minister's spiritual leadership, dedication, time and commitment.
---
Partner News
Child Evangelism Fellowship Golf Tournament has been rescheduled for October 23, 2020 at River Bend YMCA Golf Course in Shelby, NC.
1 PM Lunch
For more information or to sign up call Allen at 704-477-4680.
Friendship Baptist Church, Hudson NC is seeking a part-time church secretary.
– $15 per hour
– 20 hours per week with flexible schedule
– Paid holidays and vacation days
Email resumes on or before November 1, 2020 to friendshipresumes@gmail.com
Church News
Amherst Baptist is seeking a Pastor
Antioch Baptist is seeking a bi-vocational Pastor.
Catawba Valley is seeking a Pastor
Community Missionary is seeking a Pastor
East Valdese Baptist Church is seeking a full-time Senior Pastor
El Bethel Baptist Church in Morganton is seeking a full-time Associate Pastor of Worship and Youth to join their ministerial staff. Please send resumes and questions to worshipleadersearchebbc@gmail.com.
Mull's Grove has a Pulpit and Lord's Supper for sale. The cost is $1,000 for the pair. For more information please call pastor Drue at 504-239-6583.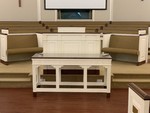 Pleasant Hill Baptist is seeking a full-time Children's and Youth Ministry Pastor as well as a part-time Worship Pastor/Leader.
Rutherford College First Baptist is seeking a bi-vocational Pastor.
Walker Road Baptist is seeking a full-time Senior Pastor.
Wilkies Grove is seeking a full-time Senior Pastor