This week's Update contains information about Toy Store, Golf Tournament, OneNight and much more.
---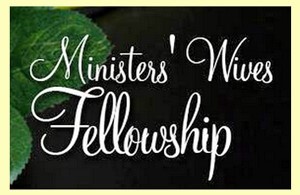 The Ministers' Wives Fellowship will be this evening at Abele's at 5:30 p.m. Please join us as we talk about how God in working in our lives.
---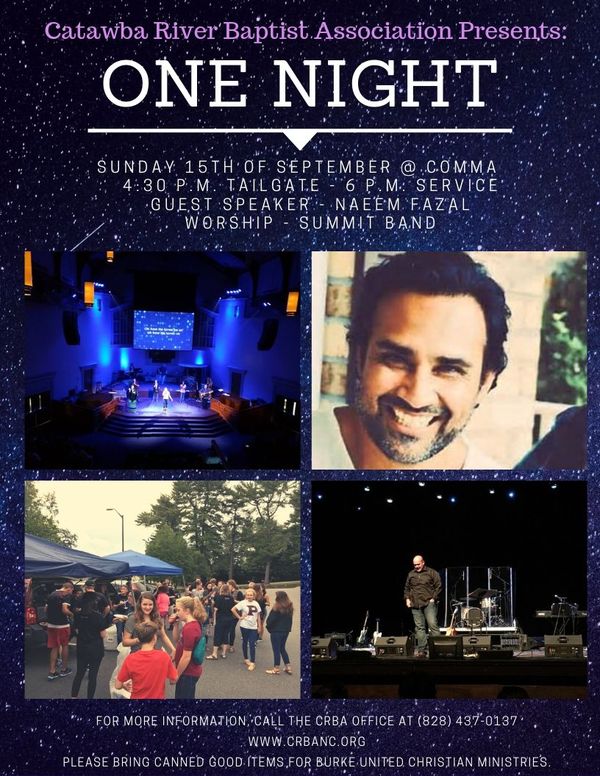 We are very excited about this year's ONE Night at the CoMMA on Sunday, September 15th at 6 p.m. In partnership with Southern Baptist Churches throughout the country, we are hosting this evangelistic event to give you (members of our CRBA Churches) an opportunity to bring your ONE (the person you have been praying for to receive Jesus) with you to hear the Word of God preached and then receive an opportunity to respond to the Gospel. This will be a wonderful time where many will come to faith in Christ so please join me in praying and then join us (with your ONE) for this great evangelistic opportunity. The service will begin at 6 p.m. and our Burke County middle & high school students will gather in the CoMMA parking lot at 4:30 for a great tailgate party.
---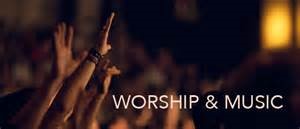 We invite all of our Ministers of Music/Worship to join us September 12th at 6 p.m. for a time of fellowship and Q&A. We will spend time sharing ideas as well as have a time for Q&A. Our Associational Music and Worship Leadership Team (Jon Calloway and John Setterlin) will be there to lead our discussion. A light supper will be provided so please RSVP by calling our CRBA office at 828-437-0137.
---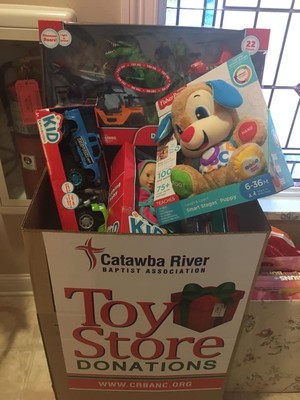 We are excited about this year's Toy Store ministry as we will be celebrating 25 years of ministry to families using toys at Christmas to share the Good News of Jesus. This year we are already collecting toys to be distributed to families during Toy Store in December. If you would like a collection box (like the one pictured) to be delivered to your church (or business) please give us a call at 828-437-0137. Collection boxes are also available for pickup at our CRBA office in Morganton.
---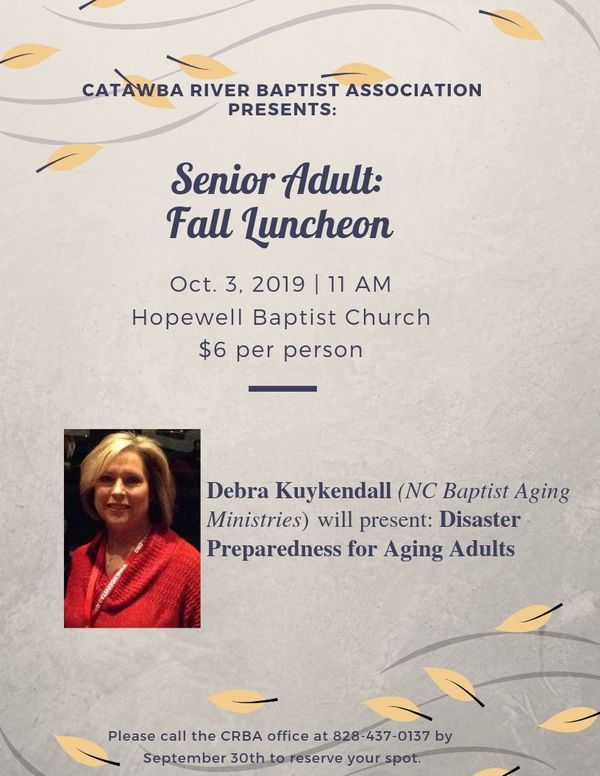 ---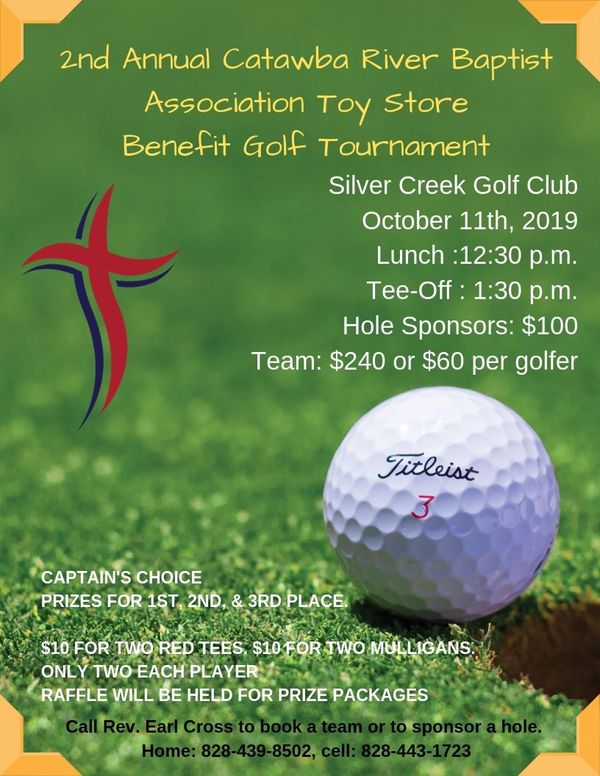 Due to bad weather, our Toy Store Benefit Golf Tournament has been rescheduled to Friday, October 11th. Please bring a team of four and join us for some great fun while supporting our Association's Annual Toy Store Ministry. For more information or to sponsor a hole please call our CRBA office or pastor Earl Cross at 828-443-1723.
---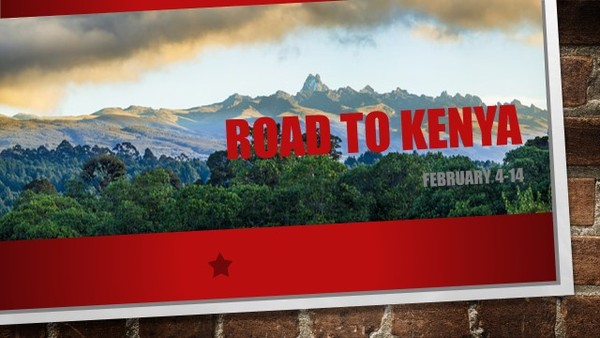 Our Kenya Mission Team is excited about our upcoming mission trip February 4-14, 2020. If you would like to join this team, please call our office ASAP. We currently have a team of 13 and can add up to 3 more men and women. Our first training meeting will be Tuesday, September 24th at 6 p.m. at our CRBA office. We will be serving a light supper so please RSVP by call our the CRBA office at 828-437-0137.
---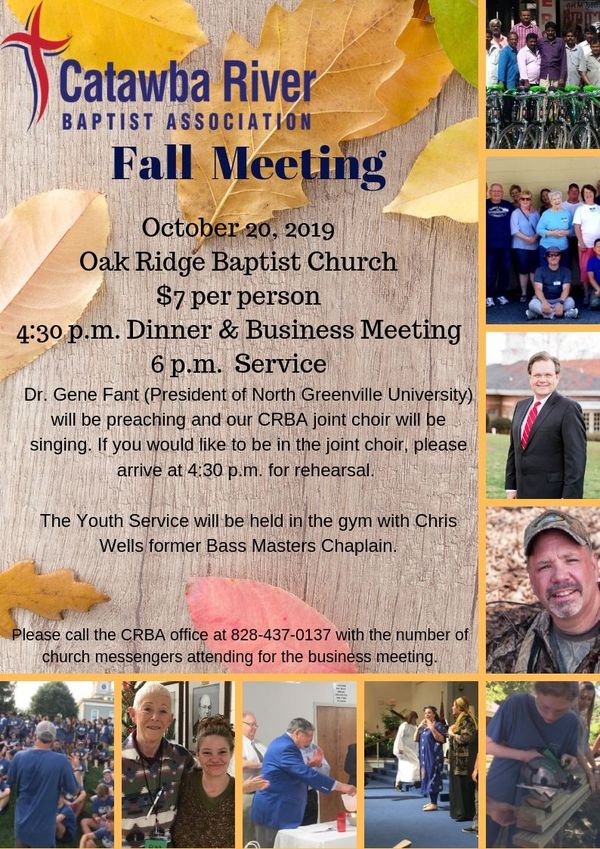 ---
Ministry Partner News
---
Please join us for the next…
Connect Burke Resource Forum
Community Safety
Keynote Presentation: "Addressing the Gaps: Law Enforcement Initiatives to Reduce Criminalization of Addiction"
Captain Jason Whisnant, Ed.S, LPC – Morganton Public Safety

Followed by short presentations by 12 agencies who provide services & resources related to community safety
Tuesday, September 10, 2019 | 1pm – 3pm
Western Piedmont Community College, Main Campus, Moore Hall, Auditorium
1001 Burkemont Avenue, Morganton, NC 28655
Space is limited. RSVP by September 6, 2019
Questions – call Kim Rhoads at 828-323-8049 or email krhoads@partnersbhm.org
Keynote Presentation – Agency Presentations – Networking
Resource Forums provide opportunities for professionals to share & learn about the many services available in our community.
Together, we can do great things!
---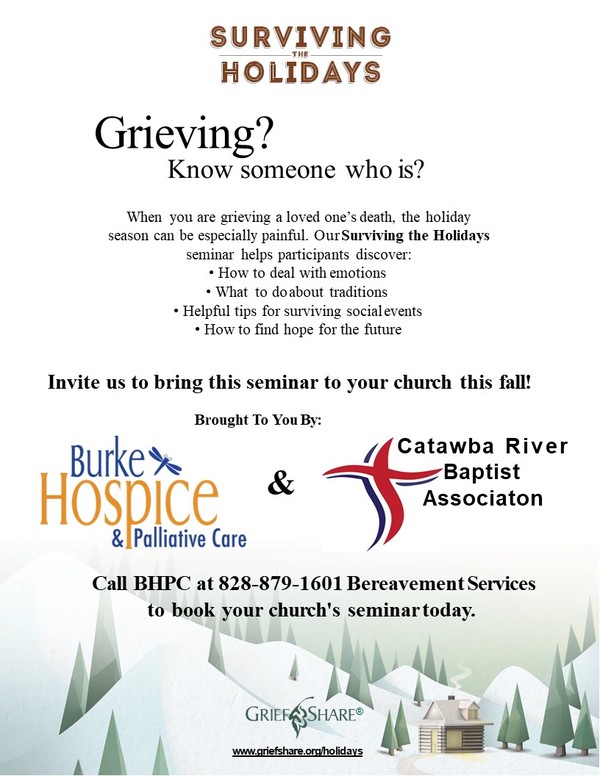 ---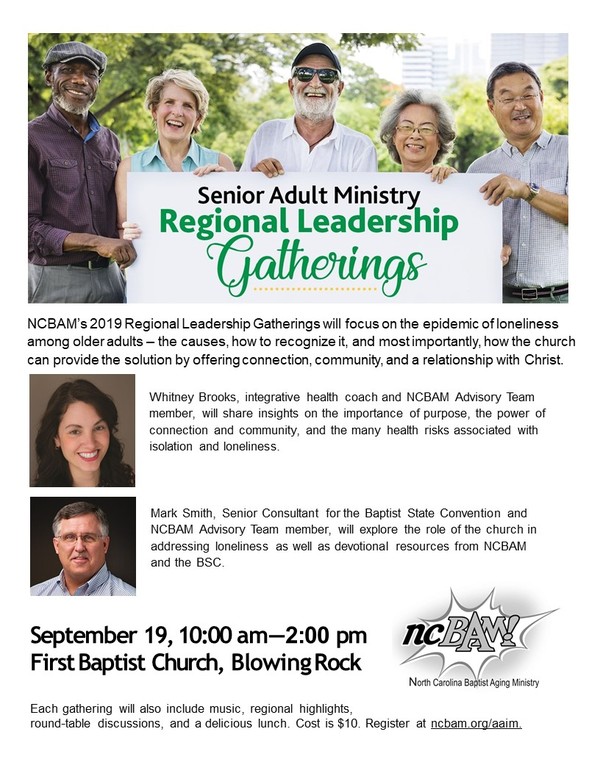 ---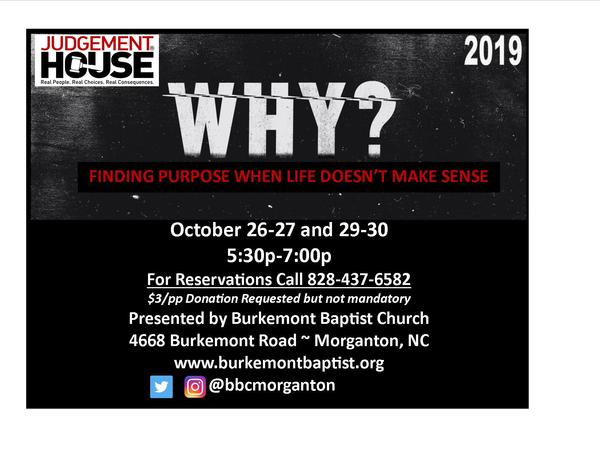 ---
A group in our community will be going to Israel November 17-28, 2020 and they have room for you. If you have always wanted to go to the "Holy Land" but have never had the opportunity you will want to attend the next information meeting on October 6th at 4:30 p.m which will take place at Burkemont. For more information, please call Susan Jones at 828-443-1316 or scjones129@bellsouth.net.
---
Amherst Baptist Church is in search of a Part-Time Youth Pastor.
Send resumes to:
Amherst Baptist Church
P.O. Box 276
Drexel, NC 28619
---
Antioch Baptist is seeking a bi-vocational Pastor.
---
Bethel Baptist is seeking a bi-vocational Pastor.
---
Bethlehem Baptist is seeking a bi-vocational Pastor
---
Brown Mountain Baptist Church has recently updated their sound equipment and would like to donate their old system to anyone who could use it for ministry purposes. The system includes a 6 channel powered mixer with two speakers and stands. For more information please contact the Pastor Luke Gwyn at 828-260-5917.
---
Bridge 42 is an elder-led, congregationally affirmed body of Christian believers in Morganton, NC, who desires to see the Gospel of Jesus Christ lived out incarnationally in our area through practices of intentional community, active outreach, a missional understanding of vocation, family, and community life, and an emphasis on personal and corporate discipleship, both within our body and among our neighbors (www.bridge42.org). They are looking for a bivocational pastor who aligns with their values and sense of mission, who will lead their elders and church body towards growth as a faithful expression of Christ's kingdom in Burke County. At a minimum, candidates are required to have a 4 year undergraduate degree in a related ministerial field with at least 5 years of experience. Candidates may submit resumes to:Bridgesearchteam@gmail.com
---
Cornerstone Baptist Church is seeking a full-time pastor, please send resumes to cbcsearch1@gmail.com
---
Drexel First Baptist Church is currently seeking a Part-timeYouth Ministry Leader.
Send resumes to:
Drexel First Baptist Church
Attn: Bert Eastwood
P O Box 308
Drexel, NC 28619
or email to: drexelfbc@gmail.com
---
El Bethel is seeking a full-time Associate Pastor of Worship and Youth. If interested please send your resume' to worshipleadersearchebbc@gmail.com
---
Grace Baptist Church invites you totheirMissions Conference: The Fathers Business
Sunday, September 8 @ 6:00 pm (prayer rooms at 5:30 pm)
Monday, September 9 – Wednesday, September 11 @ 7:00 pm
(Prayer rooms at 6:30 pm)
---
Missionary Ridge Baptist is seeking a full-time Senior Pastor. Please send resumes to bmason04@icloud.com.
---
Morganton First Baptist Church has hundreds of books they are willing to donate. If interested stop by the church library or call 828-437-2544 for more information.
---
Mull's Grove Baptist Church is currently seeking a full-time Senior Pastor. Please send resumes to mgbcpastorsearch19@gmail.com.
---
New Hope In Christ is seeking a van for ministry to help those in our community who are in need and need to hear about Christ. If you have any questions regarding this request or can provide a blessing to this wonderful congregation, please contact Elder, Charles Scruggs, President of the Trustee Board at 828-604-5104 or Pastor Max Bristol at 828-448-8259.
---
Riverside Baptist is seeking a bi-vocational Pastor. Please send your resume' to P.O. Box 3451, Morganton, NC., 28680
---
Smyrna Baptist is seeking a bi-vocational Pastor.
---
Walker Road Baptist is seeking a full-time Pastor. Please send your resume' to gregory.branch@gmail.com