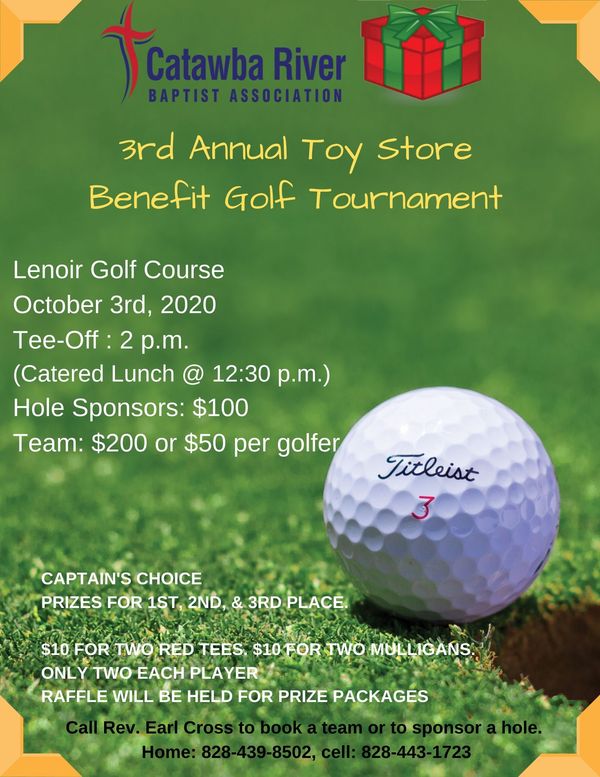 Our Annual CRBA Toy Store is approaching quickly and we could use your help. We would love to have a team of four from each of our CRBA churches represented. Please consider putting that team together as soon as possible and let us know by contacting our CRBA office at 828-437-0137 (admin@crbanc.org). Also, as a church, consider sponsoring a hole ($100 per hole) which goes to purchase toys for families in need in our community at Christmas. If your church or business wishes to sponsor a hole, please send checks to 1812 US 70 E., Morganton, NC. 28655. The hole sponsorships must be in by September 21 to give us enough time to create a sign with your church name and logo to be displayed at one of the holes during the tournament. You can also contribute online by going to www.crbanc.org and click on the donate button.
---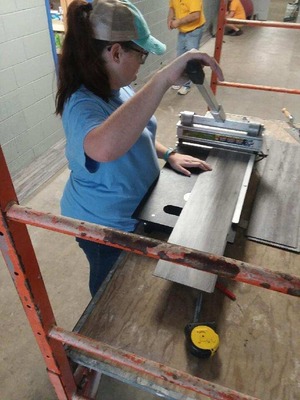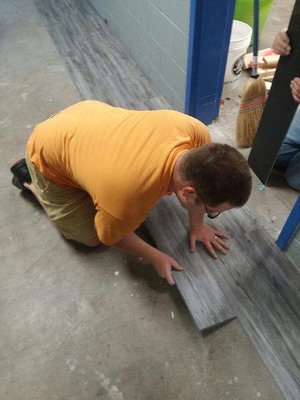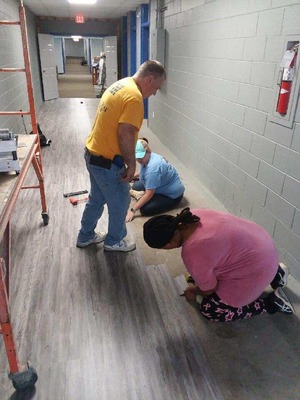 Our Mission Team to Rose Hill N.C. did a wonderful job ministering, representing Christ and the churches of our Catawba River Baptist Association. Under the great leadership of team leader Emily Martin, they diligently worked to install needed flooring inside a ministry that reaches many families on the east side of our state. If you would like to participate on one of our mission teams in 2021 please regularly check our website @ www.crbanc.org or give us a call at our CRBA office @ 828-437-0137.
---
Annual Church Profile (ACP) 2020
The annual church profiles have been sent out. If your church needs the Association to put it in online, please have it to the office by October 5th. If your church is submitting the ACP online, please have a copy brought by the CRBA by November 1st. If you have any questions or need assistance call the office at 828-437-0137. If by chance you did not receive an ACP packet, please call immediately.
---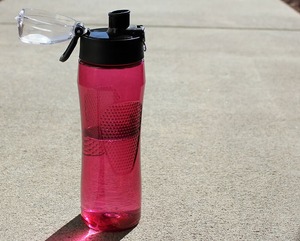 Our CRBA Women's Leadership Team is organizing a ministry opportunity for women's ministry groups in our CRBA churches. They will be distributing sports bottles filled with supplies to those in our community who are homeless. Please begin to collect the following items and bring them to our CRBA office and when the ordered large sports bottles arrive we will fill them and then distribute them to individuals in need. This is a great project for not only women's groups but youth and children's groups (and families) as well.
We are asking for the following items: individual packs of crackers, new adult socks, Slim Jims and travel sized wet wipes and tissues. Keep in mind these items must fit into a sports bottle. We will also accept monetary donations, if you would like to contribute and are not able to shop.
---

Even though procedural changes are most likely to change due to COVID-19, we are excited about this year's Toy Store Ministry as we will be celebrating 26 years of ministering to families in need using toys at Christmas to share the Good News of Jesus. If you would like a collection box to be delivered to your church (or business) please give us a call at
828-437-0137. Collection boxes with the Toy Store Logo are also available for pickup at our CRBA office in Morganton. Or, feel free to bring donations (new toys costing between $12-$15) to our CRBA office. For ideas go to https://www.crbanc.org/crba-needs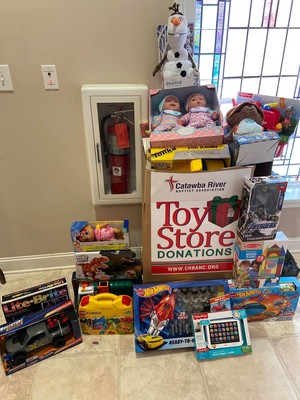 ---
Partner News
Child Evangelism Fellowship Golf Tournament will be on September 25, 2020 at River Bend YMCA Golf Course in Shelby, NC.
1 PM Lunch
For more information or to sign up call Allen at 704-477-4680.
Mimosa Christian Counseling Center Golf Tournament is at Silver Creek Plantation September 25, 2020.
11:30 AM Lunch
1:00 PM Shotgun Start
To sign up your 4-person team call the Mimosa Counseling Center at 828-433-5600.
Church News
Amherst Baptist is seeking a Pastor.
Antioch Baptist is seeking a bi-vocational Pastor.
Community Missionary is seeking a Pastor.
East Valdese Baptist Church is seeking a full-time Senior Pastor.
El Bethel Baptist Church in Morganton is seeking a full-time Associate Pastor of Worship and Youth to join their ministerial staff. Please send resumes and questions to worshipleadersearchebbc@gmail.com.
Pleasant Hill Baptist is seeking a full-time Children's and Youth Ministry Pastor as well as a part-time Worship Pastor/Leader.
Rutherford College First Baptist is seeking a bi-vocational Pastor.
Walker Road Baptist is seeking a full-time Senior Pastor.
Wilkies Grove is seeking a full-time Senior Pastor.